Table of Contents
What is Twitter?
Twitter is one of the most popular social network companies. Twitter is an American microblogging and social networking service on which users post and interact with messages known as "tweets". Registered users can post, like, and retweet tweets, but unregistered users can only read them. And when you are logged in to your Twitter account you can customize your Twitter profile. But also enable the option to have a Twitter Dark Mode, called the "Dim" or "Lights out" mode.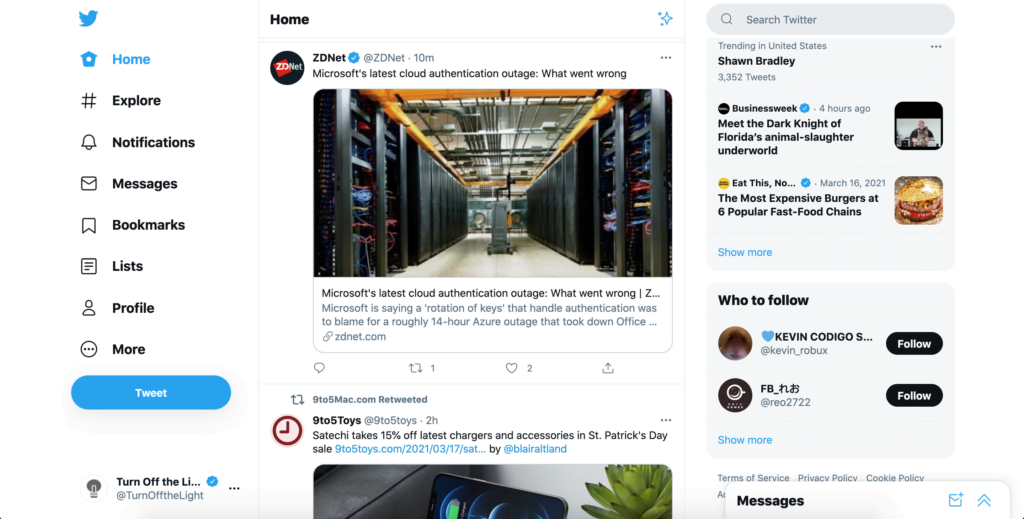 What is Twitter Dark Mode?
Twitter Dark Mode is a feature in the Twitter app and website that changes the interface's color scheme from light to dark. It replaces the predominantly white background with a dark or black background, making it easier on the eyes, especially in low-light environments. Dark Mode can be enabled in the app's settings and offers a visually appealing and more immersive experience for users. It helps reduce eye strain and battery consumption on devices with OLED or AMOLED screens.
1. Twitter dark mode for iPhone and Android
Twitter for Android and iOS has two dark modes: one with a dark blue background (called 'Dim') and another with a black background (called 'Lights out'), which was designed with AMOLED screens in mind. Whichever you prefer, it's easy to make the switch.
Slide-out the main menu
Select Settings and privacy
Tap Display and sound
Choose either Dim or Lights out
2. Twitter Dark Mode on desktop websites
Twitter is also accessible on the desktop web browser. And when you are logged in to your Twitter account you can follow the steps below to get a Dark Mode version of it.
Open the Settings and privacy menu
Select Display
Choose Default, Dim, or Lights out
And choose the highlight color that you like to see
The Twitter Night mode is more enjoyable for your eyes. But this what you now see as a regular user sees. That without any browser extension installed. And that is too bright for your eyes.
3. Customize it further to your personal Twitter dark mode style
The Twitter settings are limited to only up to 3 dark styles. However, you can use the free Turn Off the Lights browser extension. That is customizable to your color from up to 15 million different colors you can choose. And that will enable the night mode on all websites.
Download the Turn Off the Lights browser extension
Click right on the gray lamp button, and select the menu item Options
Select the Night Mode tab, and enable the first checkbox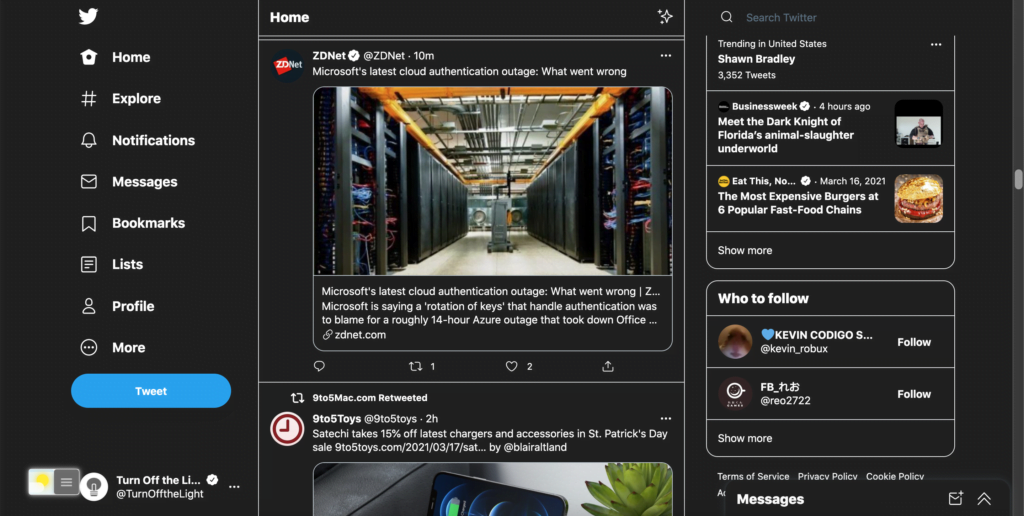 Furthermore, the Turn Off the Lights browser extension is free and Open-Source. And it is available for each major web browser such as Google Chrome, Firefox, Opera, Safari, Yandex, Vivaldi, Brave, and Microsoft Edge.
YouTube video tutorial
How to enable Night Mode on any websites
How to activate Night Mode with Double-Click
Conclusion
Hope that answers one of your questions about Twitter Dark Mode:
Activate the Twitter dark theme
Activate the light off Twitter mode
How do I make Twitter Black?
Is there a dark mode for Twitter?
How to enable dark mode for Twitter?
If you find it useful to get your Twitter in Dark Mode, then you can share the link on Facebook or share the link on Twitter. So your family, friends, or colleagues can know about this handy free tool.