Twitch Dark Mode is that possible? Yes. For other visitors that do not know, Twitch is an American video live streaming service operated by Twitch Interactive, a subsidiary of Amazon.com. (Where you can also set Amazon in Dark Mode)
That is launched on 6 June 2011. It is the place to see live video gaming but also to talk or to learn live from the creator. It has more than millions of people that come together every day at the Twitch website. And that has only 1 single theme for his complete streaming website. Twitch Dark Mode is not yet available. However, there is an easy and free solution (that costs you zero dot zero and with no monthly subscription).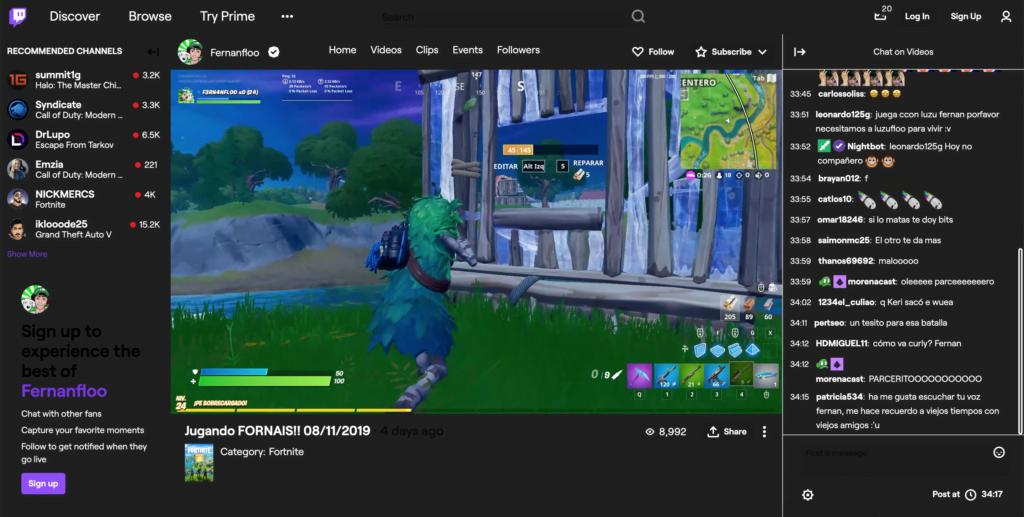 However, you can get the most customizable dark mode on twitch website, thanks to this Turn Off the Lights browser extension. This free and Open-Source tool lets you finally customize it to your own chosen colors. So you can choose the background color, text color, and hyperlink color. And you get twitch desktop mode in a new comfortable experience.
Dark Mode on Twitch website (twitch desktop mode)
Follow the instruction steps here below to get this feature enabled in your favorite web browser:
Install the Turn Off the Lights Browser extension for your favorite internet web browser
When the installation is completed, open the Turn Off the Lights Options page by clicking right on the gray lamp button. And choose from the right-click menu the item Options
Select the Night Mode tab, and enable the first checkbox
And on iOS, you can also install the Turn Off the Lights for Safari app, which brings the option to get dark mode on your smaller screen size. So you can activate it with a long press on the current web page. See in the Turn Off the Lights Options page -> Night Mode tab -> and here you see the option to activate it by the switch on long-press action.
Furthermore, the Night Mode feature is a universal and free tool. That means it works on all major websites such as YouTube, Facebook, Wikipedia, Loney Planet, etc, and also on small not know websites on the internet. So if you enable the night switch, it will be visible on all websites. And with a single click on the switch, it converts the website stylesheet to your own chosen dark theme. When you click again, it returns back to the regular website stylesheet.
Steps to activate Twitch Dark Mode (iOS web browser)
If you want to keep it always enabled in our Safari web browser on iOS and iPadOS. See this YouTube video tutorial on how to enable the Night Owl feature:
If you need any assistance or feedback to improve this free and Open-Source browser extension. You can always contact us on the support form here on the left side.
Conclusion
Hope that answers one of your questions about the twitch dark mode:
How to Turn On Twitch Dark Mode
How to Enable or Disable Dark Mode in Twitch on Chrome
Twitch Dark Mode How To Enable or Disable Easily
How to enable twitch desktop app dark mode
How to turn dark mode on twitch for pc
How to get twitch to switch to a dark theme
If you find it useful you can share the link on Facebook or share the link on Twitter. So your family, friends, or colleagues can know about this handy free tool to get Dark Mode on twitch.
Summary

Author Rating
Software Name
Operating System
Google Chrome, Firefox, Safari, Opera, Microsoft Edge
Software Category
Price
Landing Page