Table of Contents
Introduction
Do you want to dim only a few websites? Then you can add those websites URLs in the Eye Protection whitelist table, that in the Turn Off the Lights browser extension Options page. When you enable this feature you dim only the page URL you want it dark. Also, you can use this as a blacklist option. This is a unique feature that can be only found in Turn Off the Lights free browser extension that is available for Google Chrome, Firefox, Safari, Opera, Maxthon, Internet Explorer, Microsoft Edge, and Yandex browser.
How to enable this Eye Protection option with whitelist or blacklist?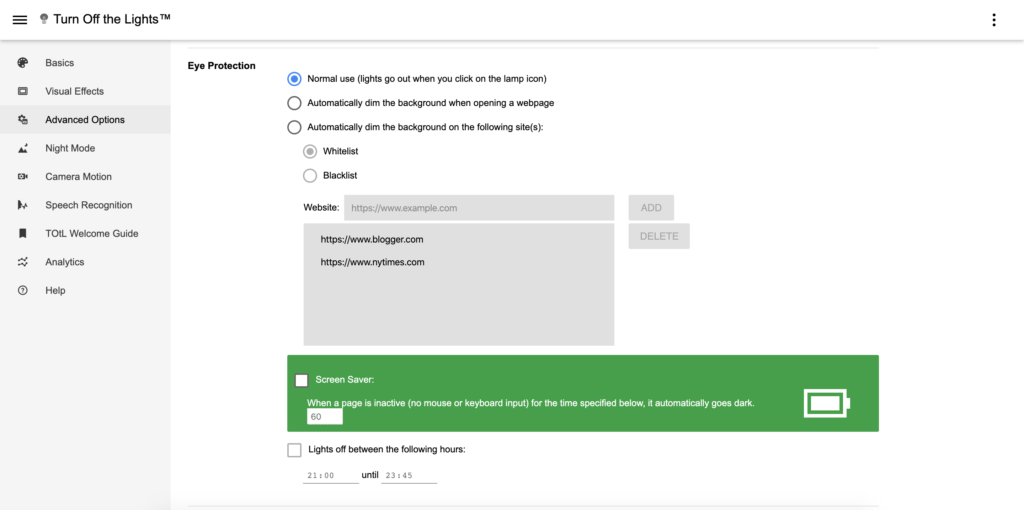 You can enable this feature in the Turn Off the Lights options page. Follow the instructions steps below to activate this option:
Click right on the gray lamp button in your web browser
Select the menu item Options from the context menu
You see it opens the Turn Off the Lights Options page in a new tab page
Click now on the 3rd tab Advanced Options to open this tab
Scroll down until you see the topic Eye Protection and enable the radio button "Automatically dim the background on the following sites(s)". Type in the textbox paste your website URL, and click on the Add button
This feature works on all websites. That includes Google, YouTube, etc.
YouTube video tutorial