Yandex Search is a web search engine that is owned by the Russian corporation Yandex. It is the core product of Yandex. In the year the 1990s, the name of the system – Yandex – was invented together by Arkady Volozh and Ilya Segalovich. Today, it still is a bright website with no option to convert it into a Yandex Dark Mode search page. However, there is a solution to this problem.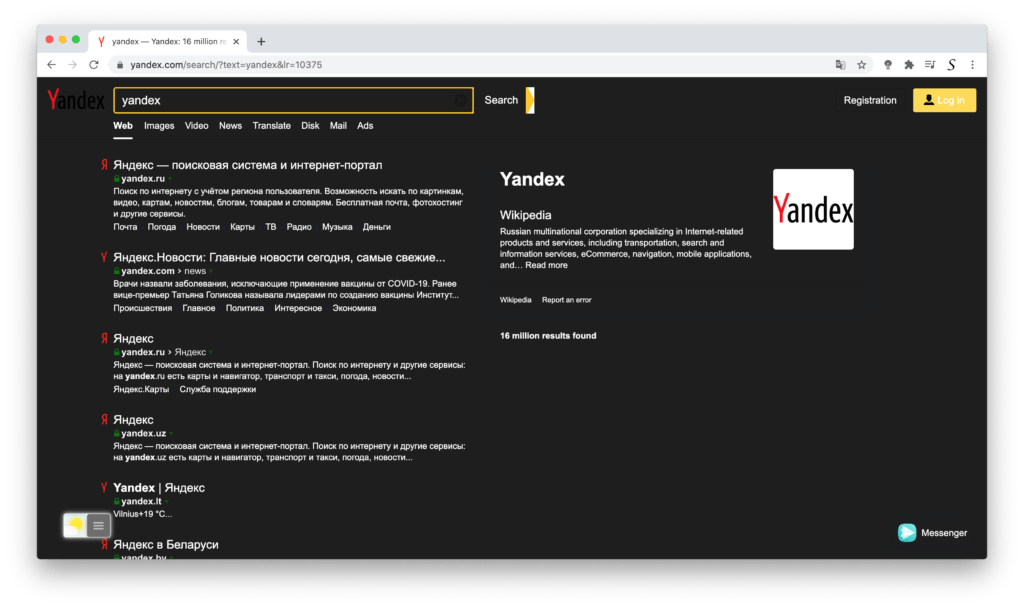 With the use of the free Turn Off the Lights browser extension (that is built in the Yandex web browser – with support for the Russian language). And also available for other web browsers such as Google Chrome, Firefox, Opera, Safari, and Microsoft Edge. You can enable the Night Mode feature in the Turn Off the Lights Options page. That will convert all websites, that include the Yandex search page to your personal Yandex dark mode website. So you can browse the search result comfortable for your eyes.
Benefits of Yandex Dark Mode
Enabling Yandex Dark Mode offers several benefits, including:
Reduced eye strain: Dark mode reduces the amount of blue light emitted by your screen, which can cause eye strain, especially when using devices for long periods. The dark background is easier on the eyes and makes it more comfortable to browse the web for longer periods.
Improved sleep: Blue light can also interfere with your sleep patterns, as it suppresses the production of melatonin, a hormone that regulates sleep. By using Yandex Dark Mode at night, you reduce your exposure to blue light, making it easier to fall asleep and stay asleep.
Extended battery life: If you use a device with an OLED or AMOLED display, enabling dark mode can help extend the battery life. These types of displays use less power when displaying dark pixels compared to light pixels, so using dark mode can help reduce battery drain.
Aesthetically pleasing: Many users prefer the dark mode interface because it looks sleek and modern. The dark background also helps to highlight the content, making it easier to read and navigate.
Activate Yandex Dark Mode with the free browser extension
For regular desktop internet users, you can get also this Yandex Night Mode version on your favorite web browser. That with the Night Mode option in the Turn Off the Lights Browser extension. Follow the steps here below on how to enable this free solution in your web browser:
Download the Turn Off the Lights browser extension
Click right on the gray lamp button and select Options in the menu item
The Turn Off the Lights Options page shows up and select the tab Night Mode
And enable here the Night switch or the long-press feature to activate the night mode on the current web page
In addition, you can customize the website background, text, and hyperlink colors. So you can make it personal to your night theme style.
Conclusion
Yandex Dark Mode is a useful feature that can make your browsing experience more comfortable and easier on the eyes. Enabling dark mode not only reduces eye strain but also improves sleep, extends battery life, and looks aesthetically pleasing.
Enabling Yandex Dark Mode is easy and only takes a few steps. You can enable it through your account settings or use keyboard shortcuts. If you're someone who frequently uses the internet, especially at night or in low-light environments, then Yandex Dark Mode is a must-try feature.
So, what are you waiting for? Enable Yandex Dark Mode on your device and enjoy browsing with ease and comfort!