A free online encyclopedia without a night mode is not a good standard for the web. That is why the Turn Off the Lights Browser extension can solve this issue for you and also for other major websites. When you enable the Wikipedia Night Mode from the Options page you can tweak it to your own personal style. So you have a comfortable experience for your eyes. And easy to read the web page when it is night.
That is not only for the Wikipedia website, but for all websites you want to see the Dark Mode version of it. Even if a website do have a Dark Mode version, with Turn Off the Lights browser extension you can customise the color to your favorite dark color. What is not possible wit the website itself.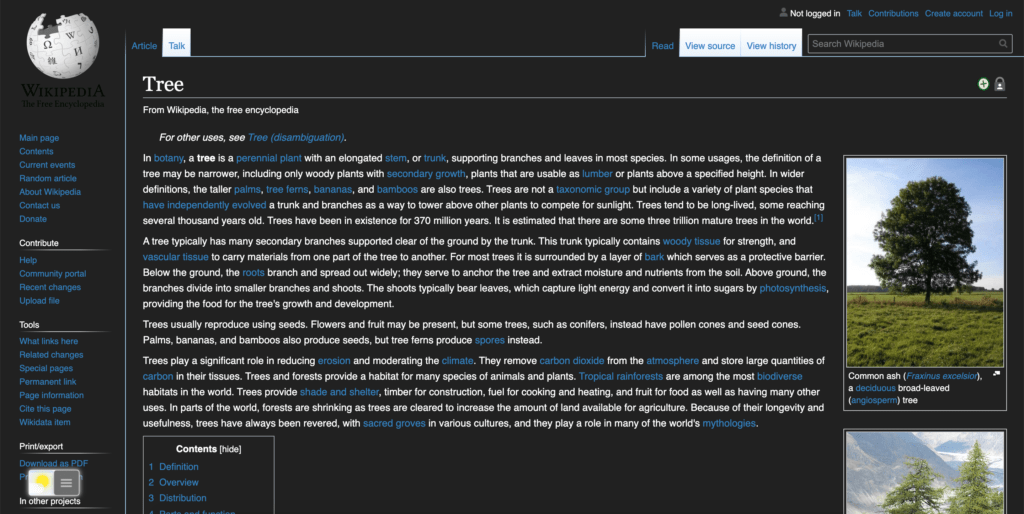 The solution to activate Wikipedia Night Mode
The simple and easy way to get a Night Mode on all websites (included Wikipedia) is to install a browser extension in your favorite web browser. And you can manage the browser extension status from the browser settings page.
Install the Turn Off the Lights Browser extension

For Google Chrome, Firefox, Opera, Safari, Yandex, Vivaldi, Brave, Microsoft Edge

Click right on the gray lamp button
And select the menu item Options

When the options page is open., click on the tab Night Mode
And enable here the checkbox to get the Night switch visible on each web page or scroll further down to enable the checkbox to automatically convert the page in night theme each time you open a new page
YouTube Video Tutorial
Conclusion
Hope that answer one of your questions about the Wikipedia Dark Mode:
Activate dark mode for Wikipedia?
How do I make Wikipedia Black?
Is there a dark mode for Wikipedia?
How to enable dark mode for Wikipedia?
If you find it useful to get your Amazon in Dark Mode, then you can share the link on Facebook or share the link on Twitter. So your family, friends, or colleges can know about this handy free tool.