Table of Contents
Introduction
Are you looking for Polygon Dark Mode? Then you are on the correct help page on how you can enable the Polygon Dark Mode.
What is Polygon?
The Polygon website is an American video game website that publishes news, culture, reviews, and videos. At its October 2012 launch as Vox Media's third property, Polygon sought to distinguish itself from competitors by focusing on the stories of the people behind the games instead of the games themselves. Its official launch date was on October 24, 2012, and the editor name Christopher Plante. The owner of this website is by Vox Media. Furthermore, they won also the award of the 'Shorty Award for Best in Gaming'. But still with no official Polygon dark mode version of his Polygone website. However, there is a free solution to this problem.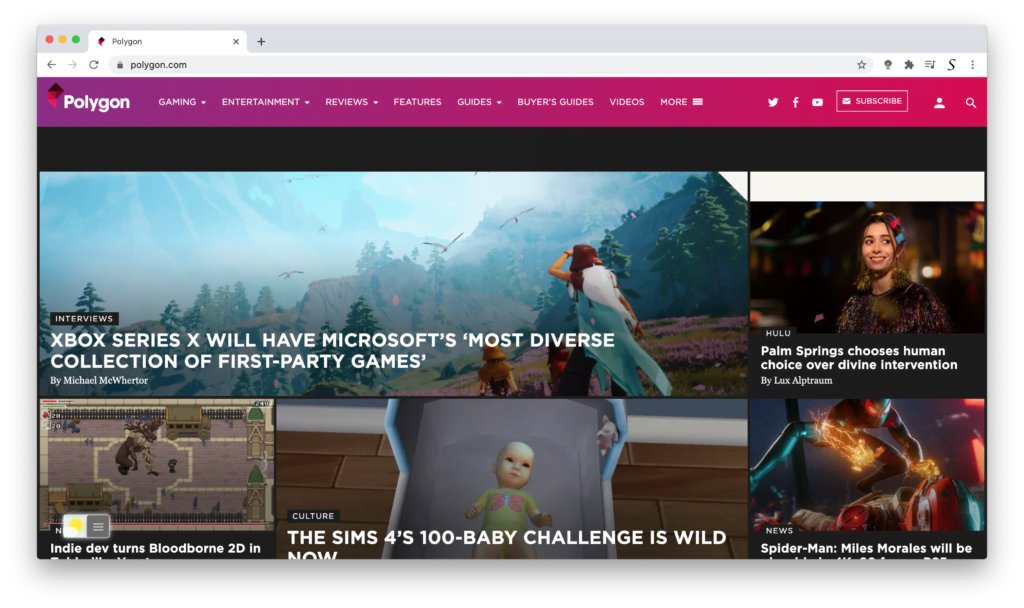 With the free and most popular Turn Off the Lights browser extension, you can convert any website in your personal dark mode version. That you can get the best website experience for your eyes.
Activate Polygon Dark Mode with the free browser extension
For regular desktop internet users, you can get also this Polygone Night Mode version on your favorite web browser. That with the Night Mode option in the Turn Off the Lights Browser extension. Follow the steps here below on how to enable this free solution in your web browser:
Download the Turn Off the Lights browser extension
Click right on the gray lamp button and select Options in the menu item
The Turn Off the Lights Options page shows up and select the tab Night Mode
And enable here the Night switch or the long-press feature to activate the night mode on the current web page
In addition, you can customize the website background, text, and hyperlink colors. So you can make it personal to your night theme style.
YouTube video tutorial
How to enable Night Mode on any websites
How to activate Night Mode with Double-Click