Reddit website is an American social news aggregation, web content rating, and discussion website. Registered members submit content to the site such as links, text posts, and images, which are then voted up or down by other members. But what are the easy steps to get the Reddit dark mode website? With the free and most popular Turn Off the Lights Browser extension, you can get Reddit in your own personal and customize the Dark theme. So from the Options page, you can tweak the background color, text color, and hyperlink colors. For example, you can create a dark background with a neon blue or green text color. Everything is possible and customizable to your own style.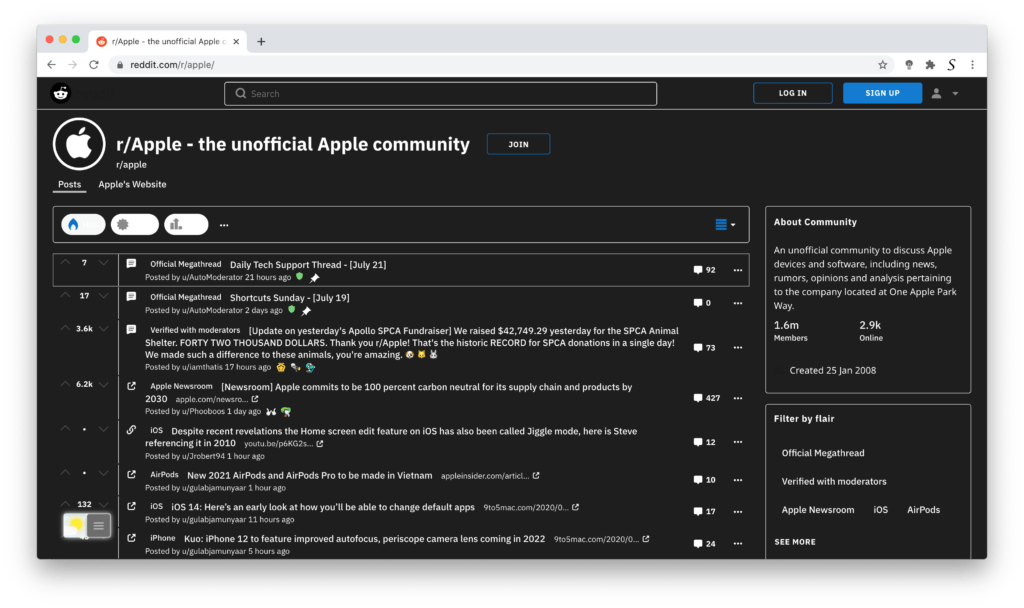 Steps to activate Reddit Dark Mode
With one powerful extension you get the new Reddit Dark in your favorite web browser:
Install the Turn Off the Lights Browser extension

For Google Chrome, Firefox, Opera

Click right on the gray lamp button
And select the menu item Options

For Safari

Open the "Turn Off the Lights for Safari" app from the Launchpad or from the Application folder
And click below in this window on the button Options

When the options page is open., click on the tab Night Mode
And enable here the checkbox to get the Night switch visible on each web page or scroll further down to enable the checkbox to automatically convert the page in night theme each time you open a new page
And on iOS, you can also install the Turn Off the Lights for Safari app, which brings the option to get dark mode on your smaller screen size. So you can activate it with a long press on the current web page. See in the Turn Off the Lights Options page -> Night Mode tab -> and here you see the option to activate it by the switch on long-press action.
If you need any assistance or feedback to improve this free and Open-Source browser extension. You can always contact us on the support form here on the left side.
Conclusion
Activate dark mode for Reddit desktop?
How do I make Dark Mode for Reddit?
Is there a dark mode for Reddit?
How to enable dark mode for Reddit?
How do I get a Dark Theme for Reddit?
How to activate Reddit Dark mode?
How to make Reddit dark mode?
Does Reddit have dark mode?
---
Did you find technical, factual or grammatical errors on the Turn Off the Lights website?
You can report a technical problem using the Turn Off the Lights online technical error feedback form.
---