In this helpful article, you will know what is Naver, and how to enable the Naver Dark Mode experience in your web browser.
Naver is a South Korean online platform operated by Naver Corporation. It debuted in 1999 as the first web portal in South Korea to develop and use its own search engine. That is launched in June 1999. This Korean online platform lacks a way of customizing the web appearance for visitors. That includes a Naver Dark Mode version of the website.
Naver Dark Mode is a feature that allows users to switch the interface of the Naver website (a popular South Korean web portal and search engine) from a light theme to a dark theme. This can be beneficial for users who prefer a darker color scheme or who use the website in low-light environments. The feature can usually be enabled or disabled in the website's settings or preferences menu.
Reduced eye strain: A darker color scheme can be easier on the eyes, especially when using the website in low-light environments or for extended periods of time.
Improved visibility: A dark background can make text and other elements on the website more visible, especially for users with certain visual impairments.
Increased battery life: Dark mode can save battery life on devices with OLED or AMOLED displays, as these types of displays do not use energy to light up black pixels.
Aesthetics: some people find the dark mode more visually pleasing and easy on the eyes.
However, it is important to note that not everyone will find these benefits and some people may find it harder to read the text or have other issues.
How to enable Dark Mode?
In the bottom right you see a moon icon to activate this mode.
Open Naver website
And click on the moon icon on the bottom right of your screen
However, this feature is limited and not customizable to your personal color choice. And with the free Turn Off the Lights browser extension, you can solve this problem. They have the Night Mode option to convert any website to your personal dark theme.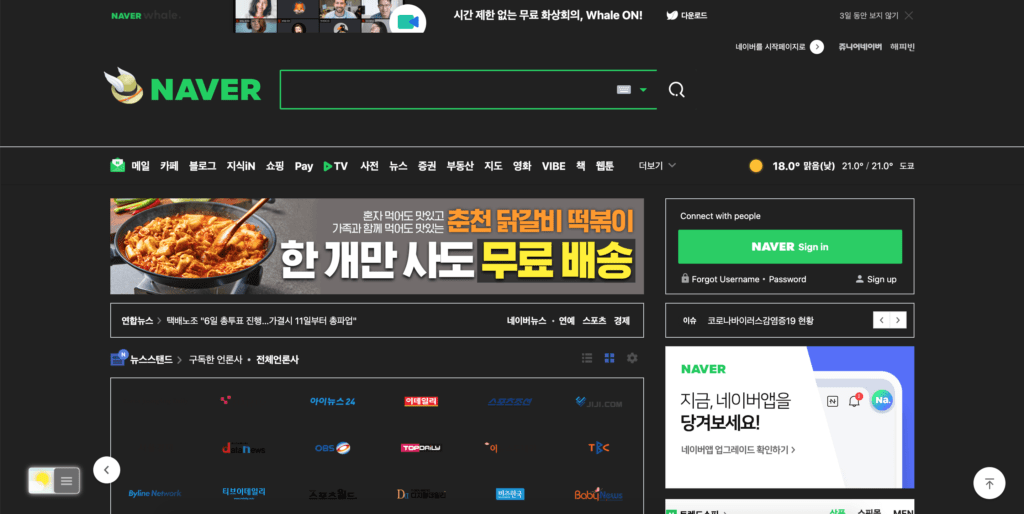 For regular desktop internet users, you can get also this Naver Night Mode version on your favorite web browser. That with the Night Mode option in the Turn Off the Lights Browser extension. Follow the steps here below on how to enable this free solution in your web browser:
Download the Turn Off the Lights browser extension
Click right on the gray lamp button and select Options in the menu item
The Turn Off the Lights Options page shows up and select the tab Night Mode
And enable here the Night switch or the long-press feature to activate the night mode on the current web page
In addition, you can customize the website background, text, and hyperlink colors. So you can make it personal to your night theme style.
Conclusion
Activate dark mode for Naver desktop
How do I make Naver Black?
Is there a dark mode for Naver?
How to enable dark mode for Naver?