Are you looking to get MusicBee Dark Mode? Then you are on the correct help page, this help article will explain to you what is MusicBee and how you can enable Dark Mode.
What is MusicBee?
MusicBee is a free, open-source music player and library management software for Windows. It allows users to play and manage their music library, including organizing files, creating playlists, and editing metadata. It also features support for a variety of audio formats, internet radio playback, and audio enhancement options such as equalizer and sound effects. Additionally, MusicBee provides various customization options, including skins and plug-ins, to personalize the user experience.
MusicBee is available for only the Microsoft Windows operating system (such as Windows 7, Windows 8, Windows 10, and Windows 11). It is developed by Steven Mayall, and the first initial release was on 4 December 2008.
Dark Mode benefits
Benefits of using dark mode in MusicBee include:
Reduces eye strain, especially in low-light environments.
Improves visibility and readability of text and icons.
Conserves battery life on devices with OLED displays.
Creates a more modern and visually appealing user interface.
Steps to activate MusicBee Dark Mode skin
Open MusicBee app from your Windows start menu
In the menu item select View, and then on the menu item Skins
And choose your Dark
You can download many other skins at the MusicBee add-ons website, such as "BlackOut 3.0", "Dark Skin with Player Centered", "AMOLED Black (Chameleon)", "Chameleon Dark", "Dracula", etc.
Open MusicBee app from your Windows start menu
In the menu item select View, and then on the menu item Skins
And choose your Add Skin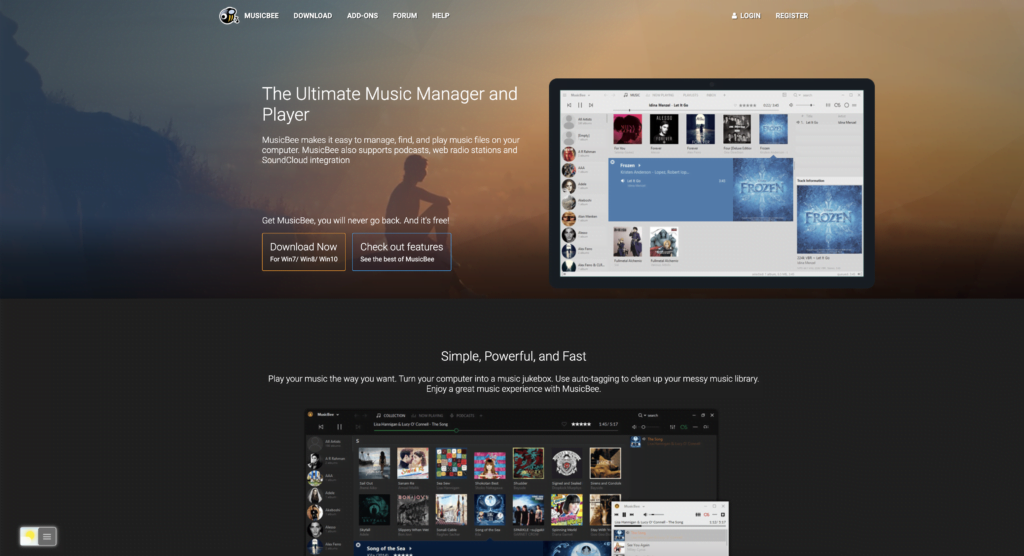 Free and Open-Source
The Turn Off the Lights browser extension is free and Open-Source. And it is available on all modern web browsers. That includes Google Chrome, Firefox, Opera, Safari, Microsoft Edge, Yandex, Brave, Vivaldi, Naver Whale, Yandex, and Cốc Cốc.
Activate Dark Mode on MusicBee beyond the application and on all websites with the free browser extension
For regular desktop internet users, you can get also this MusicBee Night Mode version on your favorite web browser. That with the Night Mode option in the Turn Off the Lights Browser extension. Follow the steps here below on how to enable this free solution in your web browser:
Download the Turn Off the Lights browser extension
Click right on the gray lamp button and select Options in the menu item
The Turn Off the Lights Options page shows up and select the tab Night Mode
And enable here the Night switch or the long-press feature to activate the night mode on the current web page
In addition, you can customize the website background, text, and hyperlink colors. So you can make it personal to your night theme style. And get the Dark Mode on MusicBee you want to see in your web browser.
Site Access (only to MusicBee Dark Mode)
Turn Off the Lights browser extension take your privacy very seriously, and you set up this browser extension to only allow the Omegle website. Here are the steps on how to activate this feature.
Open the chrome://extensions page and search for Turn Off the Lights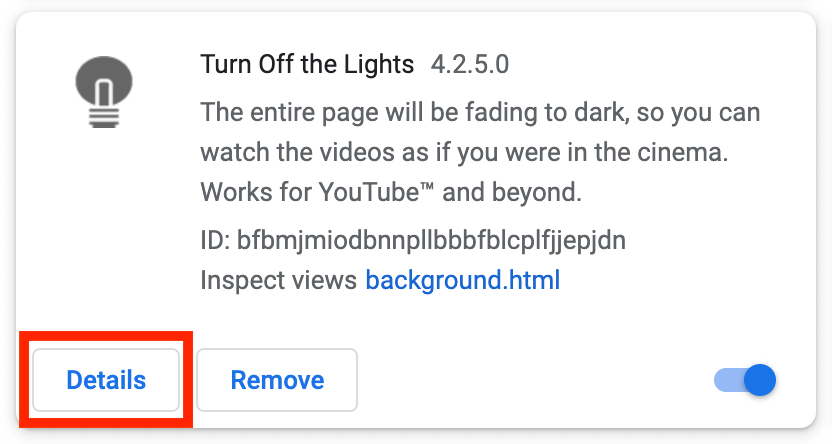 Click on the button Details to open the detailed information about this Chrome extension
Search for the section Site Access, and click on the selection box to the menu item "On specific sites"
A new popup panel shows up, and type now this URL in the text box "https://www.getmusicbee.com"
When you are done, click on the blue Add button to close this panel
Conclusion
Hope this answer one of your questions about MusicBee:
How to turn dark mode on MusicBee?
Is there MusicBee dark mode?
How to enable MusicBee dark mode?
What are the benefits of using MusicBee dark mode?
MusicBee dark mode is not working
How to install musicbee skins?
Enable dark mode on any website
If you find it useful to get your Dark Mode for MusicBee, then you can share the link on Facebook or share the link on Twitter. So your family, friends, or colleagues can know about this handy free tool.