Are you looking to get Linear Dark Mode enabled? This help page explains what is dark mode, and how to enable the Linear Dark Mode website version.
Linear is an online project management application that helps you build and manage software projects. This has been used by multiple startups and high-growth environments like Uber, Airbnb, and Coinbase.
What is Dark mode?
In the past few years, the dark mode has become increasingly popular, especially among young people. While the initial appeal of dark mode was aesthetic, it is now understood to have numerous benefits for both digital and physical health. In particular, the dark mode can reduce the strain on your eyes, help you sleep better, and even save battery life on your devices.
However, most dark mode implementations are not truly dark. They simply invert the colors of the interface, which can actually be more jarring on the eyes than a traditional light interface. A linear dark mode, on the other hand, uses a dark color palette that is specifically designed to be easy on the eyes.
How to activate Linear Dark Mode?
Open your Linear App website
Go to your account settings page, and add the themes section change the color you want to see for the background, text, and accent
And you are done
Furthermore, you can set any theme you wish. For example:
Ash: #FFFFFF,#44494D,#EDEEF3,#44494D,#475BA1,#FFFFFF
Midnight: #0F0F10,#EEEFF1,#151516,#EEEFF1,#D25E65,#FFFFFF
Dawn: #2A222E,#EEEFF1,#382A3C,#EEEFF1,#A84376,#FFFFFF
Pale: #292D3E,#EEEFF1,#292D3E,#EEEFF1,#7D57C1,#FFFFFF
Barbie Dreamhouse: #E2DAF1,#593E74,#FCDEEE,#593E74,#B8FAFA,#8B6BC7
Benefits of Linear Dark Mode
There are many benefits to using a linear dark mode, as opposed to a traditional dark mode.
First, linear dark mode is easier on the eyes. The colors are specifically chosen to minimize strain, and the overall effect is less jarring than a traditional dark mode.
Second, linear dark mode can help you sleep better. The dark colors are less stimulating to the brain, making it easier to wind down at night.
Third, linear dark mode can save battery life on your devices. Dark colors tend to be more power-efficient, so your devices will last longer on a single charge.
Overall, linear dark mode is a more health-conscious way to use dark mode. If you're looking for a dark mode that is easy on the eyes and good for your health, linear dark mode is the way to go.
Activate Dark Mode on Linear beyond the application and on all websites with the free browser extension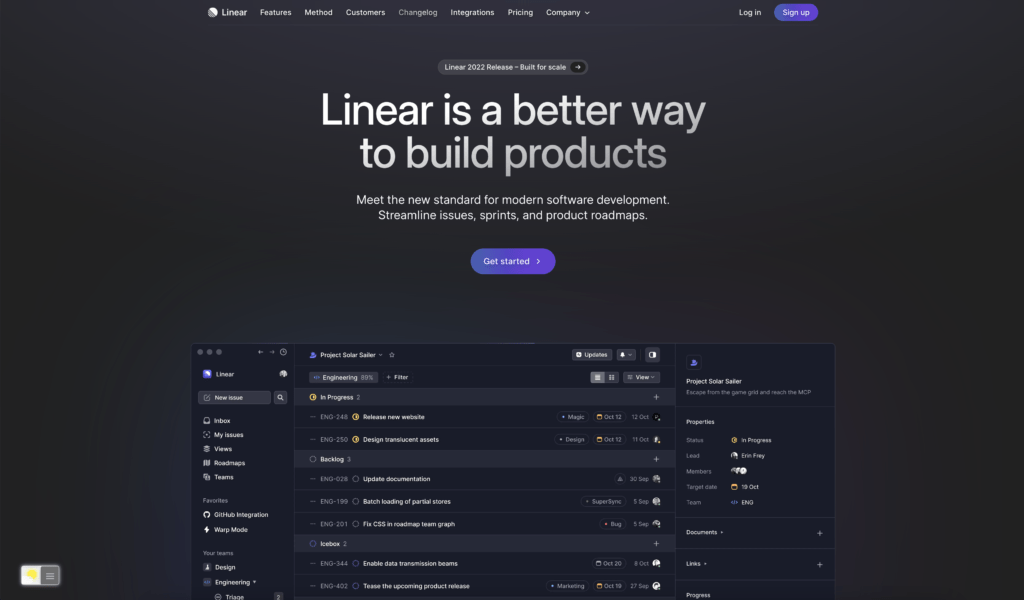 For regular desktop internet users, you can get also this Linear Night Mode version on your favorite web browser. That with the Night Mode option in the Turn Off the Lights Browser extension. Follow the steps here below on how to enable this free solution in your web browser:
Download the Turn Off the Lights browser extension
Click right on the gray lamp button and select Options in the menu item
The Turn Off the Lights Options page shows up and select the tab Night Mode
And enable here the Night switch or the long-press feature to activate the night mode on the current web page
In addition, you can customize the website background, text, and hyperlink colors. So you can make it personal to your night theme style. And get the Dark Mode on Linear you want to see in your web browser.
Site Access (only to Linear Dark Mode)
Turn Off the Lights browser extension take your privacy very seriously, and you set up this browser extension to only allow the Linear website. Here are the steps on how to activate this feature.
Open the chrome://extensions page and search for Turn Off the Lights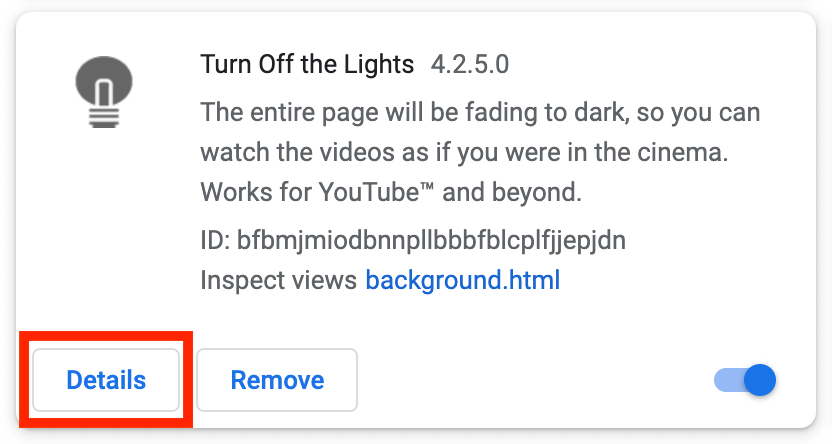 Click on the button Details to open the detailed information about this Chrome extension
Search for the section Site Access, and click on the selection box to the menu item "On specific sites"
A new popup panel shows up, and type now this URL in the text box "https://www.linear.app"
When you are done, click on the blue Add button to close this panel
Free and Open-Source
The Turn Off the Lights browser extension is free and Open-Source. And it is available on all modern web browsers. That includes Google Chrome, Firefox, Opera, Safari, Microsoft Edge, Yandex, Brave, Vivaldi, Naver Whale, Yandex, and Cốc Cốc.
Conclusion
How to turn dark mode on Linear?
Is there Linear dark mode?
How to enable Linear dark mode?
What are the benefits of using Linear dark mode?
Airtable dark mode is not working
How to install Linear dark?
Enable dark mode on any website
If you find it useful to get your Dark Mode for Linear, then you can share the link on Facebook or share the link on Twitter. So your family, friends, or colleagues can know about this handy free tool.