Table of Contents
Introduction
Are you asking yourself how to enable google dark mode? Here this help page provides you with information on how to enable Google dark mode, click on the switch and you get a dark interface on your Google.com website. To get this feature, you must install the free Turn Off the Lights Browser extension that is available for all major web browsers such as Google Chrome, Firefox, Safari, Opera, Yandex, and Microsoft Edge.
What is Dark mode?
Which is a feature that allows users to invert the color scheme of their device or application, displaying a dark background with light text. This can be easier on the eyes and reduce strain in low-light environments. It may also be used in some specific software or application as a feature that can be activated or deactivated by user preference.
What are Dark Mode benefits?
The use of dark mode on a web browser can offer multiple benefits, such as alleviating eye strain and fatigue, making it particularly advantageous for those who spend prolonged periods of time staring at screens. Furthermore, the dark mode can also enhance battery life on devices with OLED or AMOLED displays.
Google website Dark Mode
In April 2021 Google does provide an option for dark mode Google search page. With the new sun icon in the top right of the web page. And you get Google search dark theme. However, it is very limited to customize it to your personal comfort. That is where the Turn Off the Lights browser extension is here to help and choose your best Night theme on all your search pages.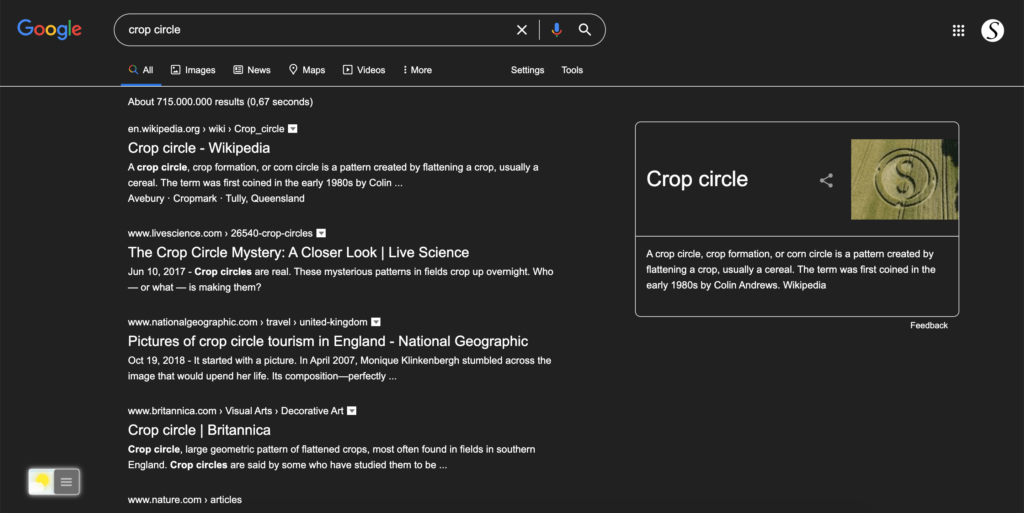 How to enable Google dark mode in my web browser? Solution!
Here below you can read the steps on how to enable Google Dark Mode feature in your favorite web browser:
Download the Turn Off the Lights Browser extension from this official website
Click on the big blue download button to get this extension in your web browser
When the installation is completed, click right on the gray lamp button and select Options
On the sidebar, click on the tab Night Mode
And enable now the first checkbox on this page
Open now the Google.com website, and click on the night switch. So you get now a google.com dark theme page
Besides set the Dark Mode Google website, you can do much more than that to get the best web experience.
Turn Off the Lights Browser extension is the most popular and simplistic extension you can get on your web browser. It is the ultimate extension to get a real and comfortable dark interface. However, there are many other options to improve your web experience. Such as for YouTube with AutoHD, Eye Protection, and atmosphere lighting feature.
Alternatively, you can also enable dark mode by typing "chrome://flags" in the address bar, then searching for "Force Dark Mode" and enable it. After that, you need to relaunch the browser. However, it can create some visual problems on some websites. And to disable it, you must reenter the Chrome flags website to disable this experiment.
Conclusion
In conclusion, enabling dark mode on Google Chrome is a simple process that can provide many benefits for users. Whether you're looking to reduce eye strain or extend your device's battery life, dark mode is a useful feature that is worth exploring.
What is Dark Mode?
What are the benefits of using the Google Dark Mode website?
How to enable Google dark mode?