Are you looking at how to enable Google Calendar dark theme? Then you are on the correct help page.
Each website is bright and that is also for the Google Calendar which needs a dark theme. With the free and powerful Turn Off the Lights Browser extension, you can enable the Night Mode feature that converts the web page to your own dark theme. And it is available for all major web browsers such as Google Chrome, Firefox, Opera, Safari, and Microsoft Edge.
What is Google Calendar?
Google Calendar is a time-management and scheduling calendar service developed by Google. It allows users to create and manage events, appointments, and reminders, and share their calendar with others. With Google Calendar, you can schedule appointments, set reminders, and receive notifications for upcoming events. It can be accessed from a web browser or through the Google Calendar mobile app, and it integrates with other Google services such as Gmail and Google Drive. The service is free and available to anyone with a Google account.
Health benefits using Google Calendar Dark Theme?
The new dark theme on Google Calendar is super cool! But not only does it look cool, but it is also good for your eyes.
Do you ever use Google Calendar to keep track of your schedule? Sometimes it can be hard to see the calendar when the lights are turned down low, right? That's where the dark theme comes in handy! The dark background makes it easier to read the calendar, so you will not have to squint your eyes as much.
Your eyes will thank you for using the dark theme on Google Calendar! And it is super easy to turn on. Just go to the settings and choose the "Dark" option. Now your calendar will look cool and be easier on your eyes!
The solution to activate the Google Calendar Dark Theme
Below are the steps on how you can activate the Google Calendar Dark Theme that is comfortable for your eyes day and night:
Install the Turn Off the Lights Browser extension

For Google Chrome, Firefox, Opera

Click right on the gray lamp button
And select the menu item Options

For Safari

Open the "Turn Off the Lights for Safari" app from the Launchpad or from the Application folder
And click below in this window on the button Options

When the options page is open, click on the tab Night Mode
And enable here the checkbox to get the Night switch visible on each web page or scroll further down to enable the checkbox to automatically convert the page in night theme each time you open a new page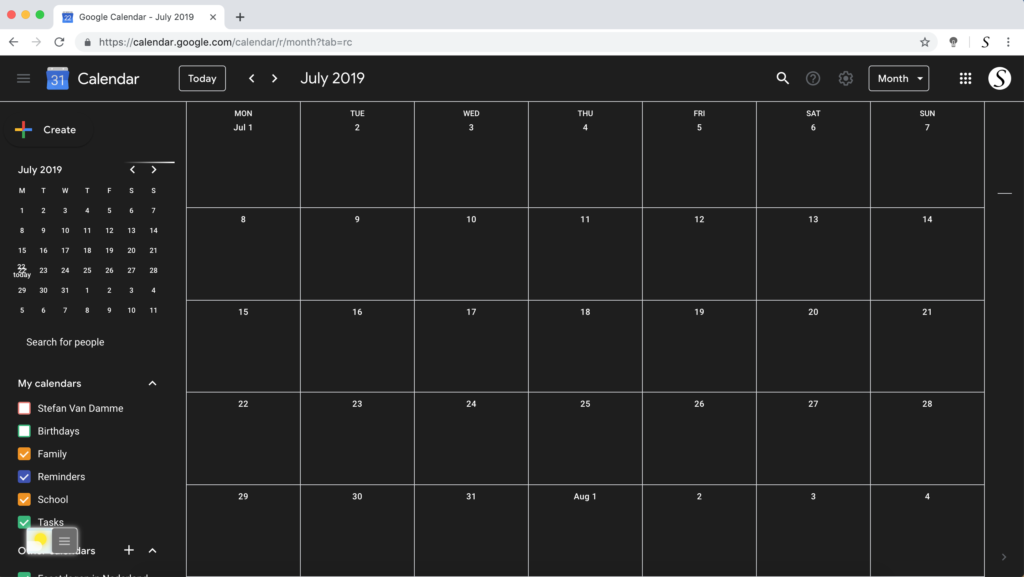 So, next time you're using Google Calendar, remember to turn on the dark theme for a better and easier experience. Your eyes will love you for it!
YouTube videos
How to enable Google Calendar in Dark Mode
Conclusion
The new dark theme in Google Calendar is a welcome addition for users who appreciate a minimalist design and who want to reduce eye strain in low-light environments. The dark theme is easy to enable, and it gives Google Calendar a modern and sleek look. Whether you use Google Calendar for work or for personal appointments, the dark theme is sure to make your calendar experience even better.
Hope that will answer one of your questions about the Google Calendar Dark theme:
What is Google Calendar?
How do I turn on Google Calendar Dark Theme?
How do I make Google Calendar Dark Theme?
Does Google Calendar have a dark theme on desktop?
How to make Google Calendar Dark Theme?
If you find it useful you can share the link on Facebook or share the link on Twitter. So your family, friends, or colleagues can know about this handy free tool.