The Ghacks.net website is a technology blog created by Martin Brinkmann in October 2005. Its primary focus is on the web browser and Windows tips, software, guides, and reviews. That included featuring also our useful tool Turn Off the Lights Microsoft Edge extension. And that has only one theme, which is an orange and white background. So no Dark Mode is available for the gHacks website. However, the is a free solution to convert his website to your personal Dark mode website. That with the Turn Off the Lights browser extension feature called Night Mode.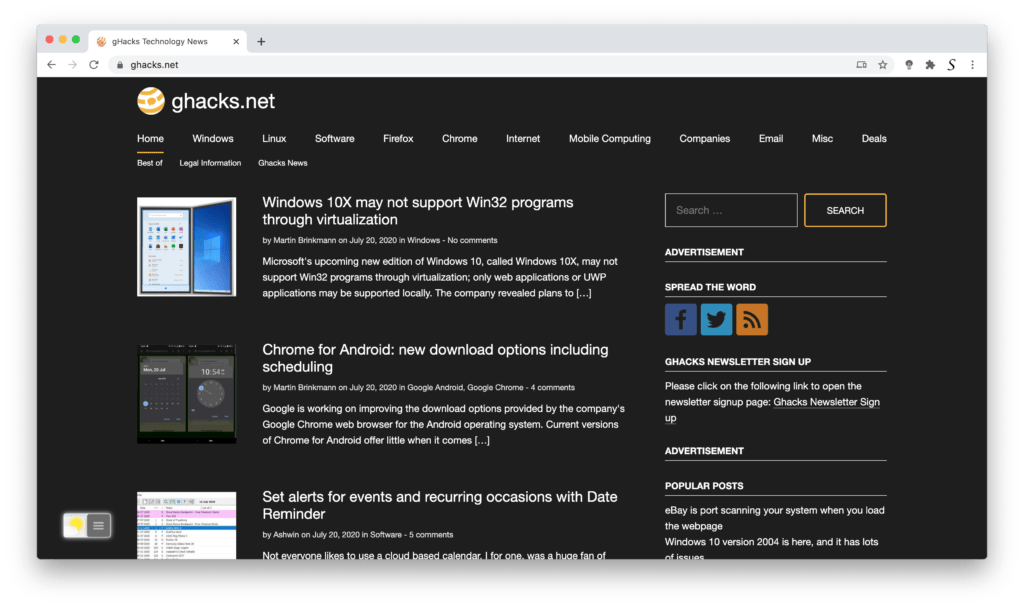 You can see that with a single click on the night switch (that is visible on the bottom right of the website), it converts the bright website to your personalized dark mode theme just like gHacks Dark Mode. So you can read relax the website and without any constrain to your eyes.
And to undo this gHacks dark mode theme, click again on this night switch. And it will return back to the website regular stylesheet theme.
Activate gHacks Dark Mode with the free browser extension
For regular desktop internet users, you can get also this gHacks Night Mode version on your favorite web browser. That with the Night Mode option in the Turn Off the Lights Browser extension. Follow the steps here below on how to enable this free solution in your web browser:
Download the Turn Off the Lights browser extension
Click right on the gray lamp button and select Options in the menu item
The Turn Off the Lights Options page shows up and select the tab Night Mode
And enable here the Night switch or the long-press feature to activate the night mode on the current web page
In addition, you can customize the website background, text, and hyperlink colors. So you can make it personal to your night theme style.
YouTube video tutorial
How to enable Night Mode on any websites
How to activate Night Mode with Double-Click