On this help page, you will learn what is Engadget tech website is and how to enable the Engadget Dark Mode version. And that is available on all websites.
What is the Engadget website?
The Engadget website is a multilingual technology blog network with daily coverage of gadgets and consumer electronics. Engadget operates a total of ten blogs—four written in English and six international versions with independent editorial staff. The website launched in March 2004 with his main editor Dana Wollman. However, the Engadget provides no option for an Engadget Dark Mode. But with the free and most popular Turn Off the Lights browser extension, you can get this option on all websites.
What is the Engadget Dark Mode?
That is a website-style version where the text color is white, and the background is black. A Dark mode version is better for your eyes. Because it will shine a high lumen density on your face.
What are the benefits of Engadget Dark Mode?
There are many benefits when using the Engadget Dar Mode version, that by following items:
Save battery life on your mobile and laptop devices.
Protect your eyes against that heavy white light shining on your eyes.
Engadget dark mode can help you sleep better. The dark colors are less stimulating to the brain, making it easier to wind down at night.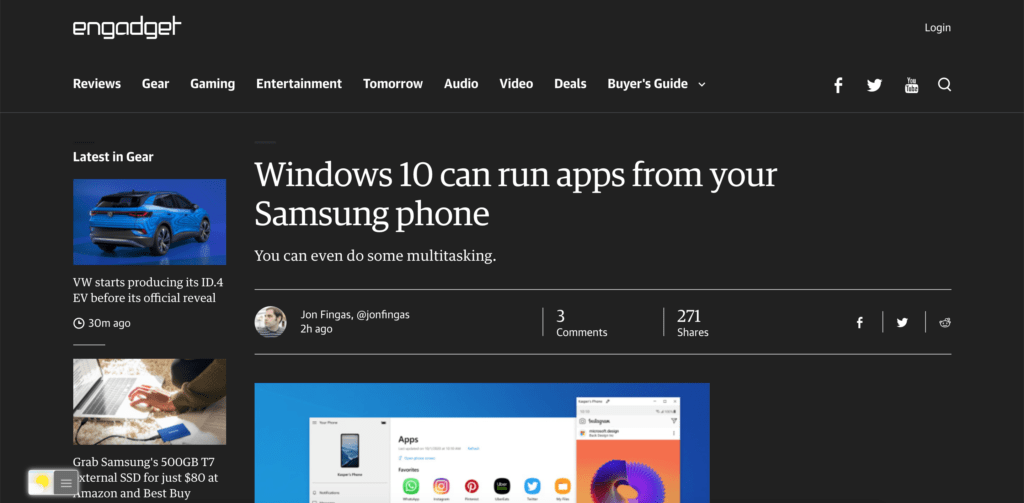 Activate Engadget Dark Mode with the free browser extension
For regular desktop internet users, you can get also this Engadget Night Mode version on your favorite web browser. That with the Night Mode option in the Turn Off the Lights Browser extension.
The "Turn Off the Lights" browser extension is a powerful tool that can enhance the user's browsing experience. In addition to providing an Engadget dark mode that improves visibility and reduces eye strain, the extension offers a variety of customization options that can be tailored to the user's preferences.
For example, the browser extension allows users to adjust the opacity level of the dark mode, providing a range of options from a subtle dimming effect to a complete blackout. Users can also select different colors for the dark mode, allowing them to choose a hue that is comfortable for their eyes or that matches their personal aesthetic.
That is available for Google Chrome, Firefox, Opera, Safari, Microsoft Edge, Maxthon, Yandex, Brave, Vivaldi, and Naver Whale.
Follow the steps here below on how to enable this free solution in your web browser:
Download the Turn Off the Lights browser extension
Click right on the gray lamp button and select Options in the menu item
The Turn Off the Lights Options page shows up and select the tab Night Mode
And enable here the Night switch or the long-press feature to activate the night mode on the current web page
In addition, you can customize the website background, text, and hyperlink colors. So you can make it personal to your night theme style.
Conclusion
In conclusion, the Engadget Dark mode gives you a comfortable experience for day and night use. And that is all for free.
Hope that answers one of the following questions:
How to turn dark mode on Engadget?
Is there Engadget dark mode?
How to enable Engadget dark mode?
What are the benefits of using Engadget dark mode?
Engadget dark mode is not working
How to install Engadget dark?
Enable dark mode on any website
If you find it useful to get your Dark Mode for Engadget, then you can share the link on Facebook or share the link on Twitter. So your family, friends, or colleagues can know about this handy free tool.