E-Trade Financial Corporation, a subsidiary of Morgan Stanley, offers an electronic trading platform to trade financial assets including common stocks, preferred stocks, futures contracts, exchange-traded funds, options, mutual funds, and fixed-income investments. That is founded in the year 1982. And since 11 June 2019, you have the built-in option to get the E-TRADE Dark Mode version. So you can reduce eyestrain while trading on the E-TRADE platform.
Does E-TRADE have a Dark Mode?
Yes, the E-TRADE does have the option to get your Dark Mode version. And you can choose up to three themes: dark, light, and market trader. These can be found on this location:
Open the E-TRADE
Clicking on Themes under Settings in the upper-left menu
And here you can select your dark theme from the list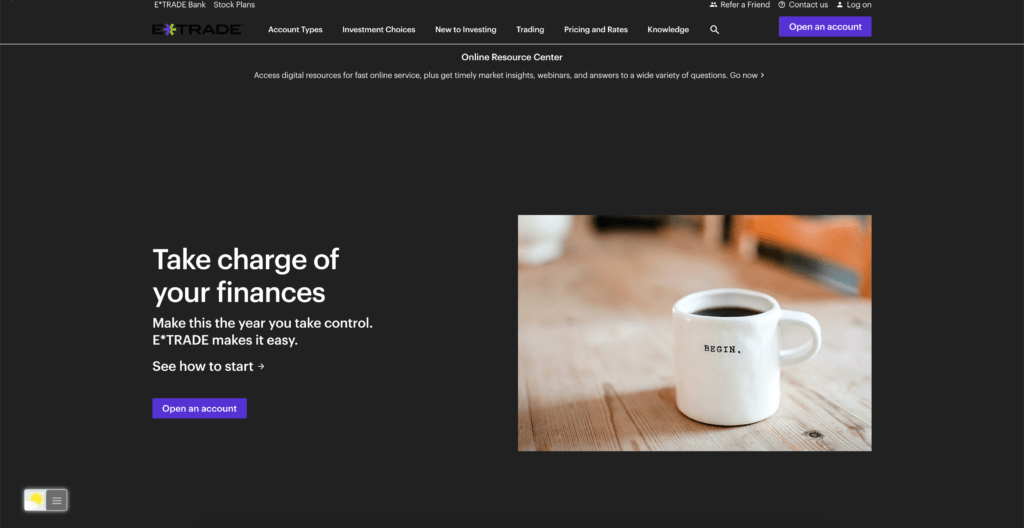 Activate E-TRADE Dark Mode with the free browser extension
For regular desktop internet users, you can get also this E-TRADE Night Mode version on your favorite web browser. That with the Night Mode option in the Turn Off the Lights Browser extension. Follow the steps here below on how to enable this free solution in your web browser:
Download the Turn Off the Lights browser extension
Click right on the gray lamp button and select Options in the menu item
The Turn Off the Lights Options page shows up and select the tab Night Mode
And enable here the Night switch or the long-press feature to activate the night mode on the current web page
In addition, you can customize the website background, text, and hyperlink colors. So you can make it personal to your night theme style.
YouTube video tutorial
How to enable Night Mode on any websites
How to activate Night Mode with Double-Click
Conclusion
Activate dark mode for E-TRADE desktop
How do I make E-TRADE Black?
Is there a dark mode for E-TRADE?
How to enable dark mode for E-TRADE?