Table of Contents
Introduction
Are you looking for the solution to get Duolingo dark mode on the desktop website? Then you are on the correct help page. Here we will explain what is Duolingo platform and how you can enable this Duolingo Dark Mode website version.
Duolingo is a platform where users can learn languages for free. Originally, the website was a platform for the crowdsourced translation of texts. The website was designed so that as the users progressed through the lessons, they helped translate websites and other documents. So you stay montifivate and make big preoress quickly. It is founded on 30 November 2011.
Does duolingo have a dark mode?
Yes, kind of. The user experience does provide you with a Duolingo Dark Mode version. But it is lacking in customization on the web. And it depend on what platform you are using the Duolingo application.
Release of Dark Mode on mobile (Android and iOS) only
On the public Duolingo twitter page, the team announced the anounce of Dark Mode. However, it is only limited on the mobile platform. And not for the desktop web browser such as in Google Chrome, Safari, Firefox, Microsoft Edge, etc.
How to make duolingo dark mode?
Here are the official steps on how you can enable the Duolingo dark mode on your personal device. So it will be better and comfortable for your eyes. That on day and night.
The steps for Duolingo Dark Mode on Android device
Open the Duolingo app on an Android device
Tap the Profile tab (face icon)
Tap Settings (gear icon)
Scroll to General and tap Dark Mode
You can choose On to activate the dark mode in the Duolingo app. Or you can choose Default setting if your Android settings are already set to a dark theme by default
The steps for Duolingo Dark Mode on iOS device
Open the iOS Settings
Tap Screen & Brightness
Tap Dark
If the Duolingo app is already open, close it and restart Duolingo. Your app is now in dark mode!
Activate Duolingo Dark Mode with the free browser extension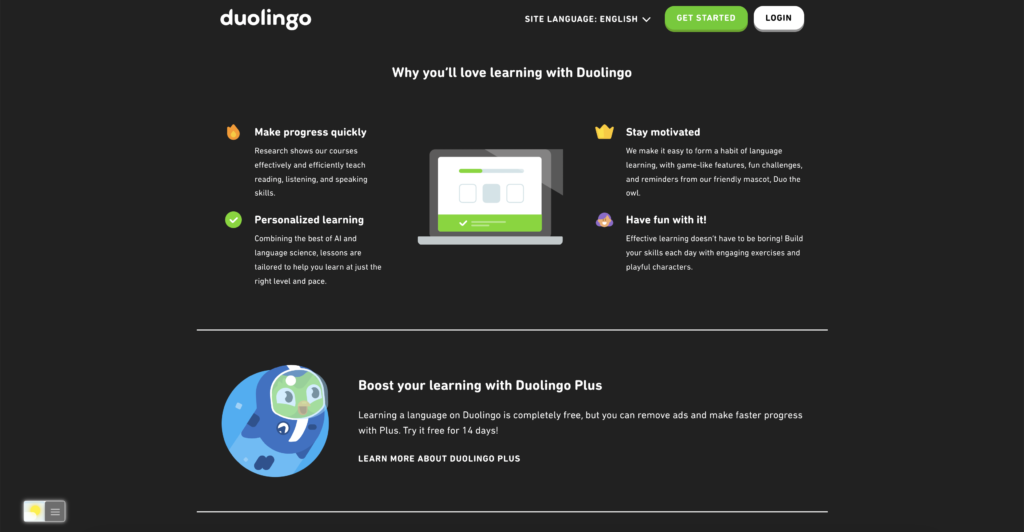 Download the Turn Off the Lights browser extension
Click right on the gray lamp button and select Options in the menu item
The Turn Off the Lights Options page shows up and select the tab Night Mode
Enable here the Night switch or the long-press feature to activate the night mode on the current web page
The Turn Off the Lights browser extension is free and Open-Source. And it available for Google Chrome, Firefox, Opera, Safari, Maxthon, Yandex, Brave, Vivaldi, Naver Whale, and Microsoft Edge.
Conclusion
Does duolingo have a dark mode?
How to make duolingo dark mode?
How to put dark mode on duolingo
Activate dark mode for Duolingo desktop
How do I make Duolingo Black?
Is there a dark mode for Duolingo?
How to enable dark mode for Duolingo?