Table of Contents
Introduction
Are you looking at how to enable the Dailymotion dark mode? This helpful article will explain to you what is Dailymotion, and how to get this dark mode enabled.
Dailymotion website is a French video-sharing technology platform primarily owned by Vivendi. North American launch partners included BBC News, Vice Media, Bloomberg, and Hearst Digital Media. Dailymotion is available worldwide in 183 languages and 43 localized versions featuring local home pages and local content. It is founded: on March 15, 2005, in Paris, France. That was by the founder Benjamin Bejbaum and Olivier Poitrey. It is one of the high rivals and competitors of YouTube and Vimeo video platforms.
What is Dailymotion Dark Mode?
Dailymotion Dark Mode is a feature that allows users to switch the interface of the Dailymotion website from a light theme to a dark theme. This can be beneficial for users who prefer a darker color scheme or who use the website in low-light environments. The feature can usually be enabled or disabled in the website's settings or preferences menu.
Benefits of using Dailymotion Dark Mode
Eye strain relief: Dark mode on Dailymotion can help reduce strain on the eyes, especially when viewing the platform for prolonged periods of time. This is because dark backgrounds with light text are easier on the eyes than bright backgrounds with dark text.
Power savings: With dark mode, Dailymotion can help users save power on devices with OLED or AMOLED displays. This is because dark pixels consume less power than bright pixels, which can help extend the battery life of your device.
Increased readability: Dark mode can improve readability in low-light environments, making it easier to consume content on Dailymotion. This is because the dark background can help to reduce glare and reflections, making it easier to focus on the text and videos.
Aesthetically pleasing: Dark mode on Dailymotion can also provide an elegant and sleek look to the platform, which can make it more visually appealing and enjoyable to use.
Personalization: Enabling dark mode on Dailymotion can allow users to personalize their experience and tailor the platform to their preferences. It also gives users a sense of control over their own environment which can be empowering.
Dailymotion Dark Mode
Dailymotion Dark Mode does not exist. However, you can solve this problem with the free and most popular Turn Off the Lights browser extension.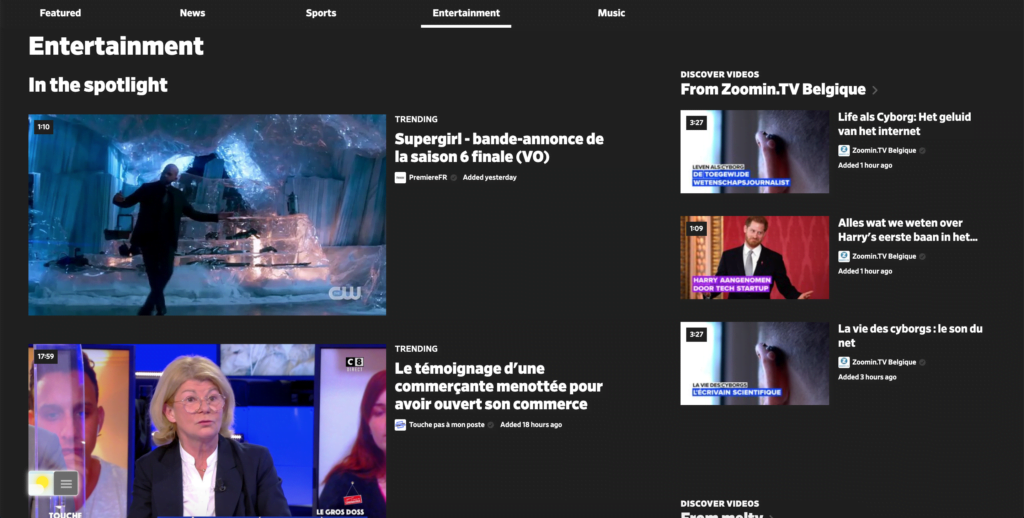 Activate Dailymotion Dark Mode with the free browser extension
For regular desktop internet users, you can get also this Dailymotion Night Mode version on your favorite web browser. That with the Night Mode option in the Turn Off the Lights Browser extension. Follow the steps here below on how to enable this free solution in your web browser:
Download the Turn Off the Lights browser extension
Click right on the gray lamp button and select Options in the menu item
The Turn Off the Lights Options page shows up and select the tab Night Mode
And enable here the Night switch or the long-press feature to activate the night mode on the current web page
In addition, you can customize the website background, text, and hyperlink colors. So you can make it personal to your night theme style.
Conclusion
Hope that answers one of your questions about the Dailymotion Dark Mode:
Activate dark mode for the Dailymotion desktop
How do I make Dailymotion Black?
Is there a dark mode for Dailymotion?
How to enable dark mode for Dailymotion?
If you find it useful to get your Dailymotion in Dark Mode, then you can share the link on Facebook or share the link on Twitter. So your family, friends, or colleagues can know about this handy free tool.