Table of Contents
Introduction
In recent years, dark mode has gained immense popularity among users worldwide. It offers a visually appealing alternative to the traditional light mode interface, reducing eye strain and enhancing user experience. Computerbild, a leading technology publication, recognizes the significance of dark mode and its impact on user engagement. In this article, we will explore the benefits of dark mode, its implementation in Computerbild Dark Mode.
What is Computerbild?
Computerbild is a renowned technology publication that provides comprehensive coverage of the latest trends, news, reviews, and guides related to computers, consumer electronics, software, and digital technology. It is a trusted source of information for tech enthusiasts, offering valuable insights and expert opinions on various aspects of the technology world. Computerbild caters to a diverse audience, including both tech-savvy individuals and those seeking guidance in navigating the ever-evolving digital landscape. With its extensive reach and authority in the tech industry, Computerbild holds a prominent position among technology-focused websites and is highly regarded by its readers.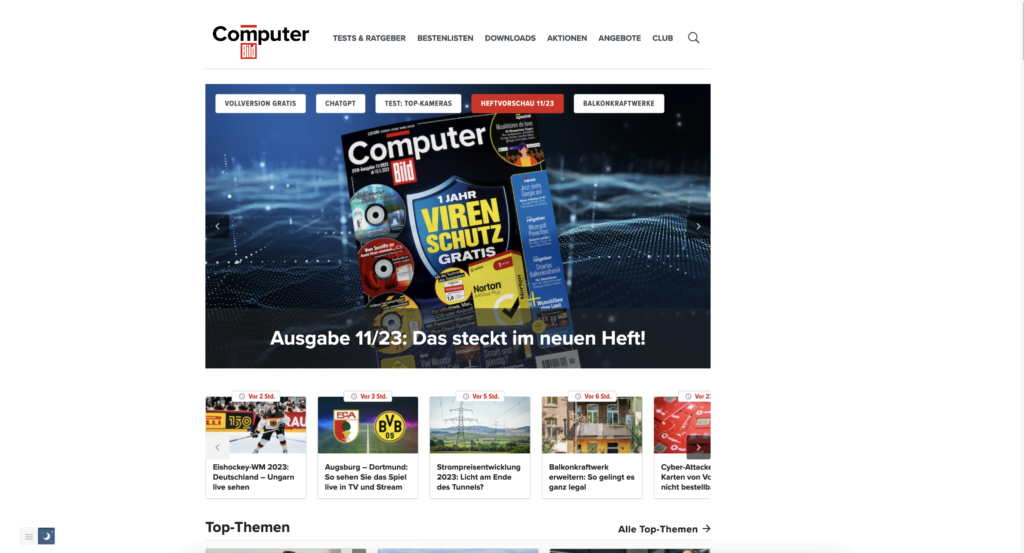 What is Dark Mode?
Dark mode, also known as night mode or dark theme, is a design feature that alters the color scheme of an application or website to use darker colors, predominantly black or dark gray, instead of light colors. It creates a high contrast environment that is easier on the eyes, particularly in low-light conditions.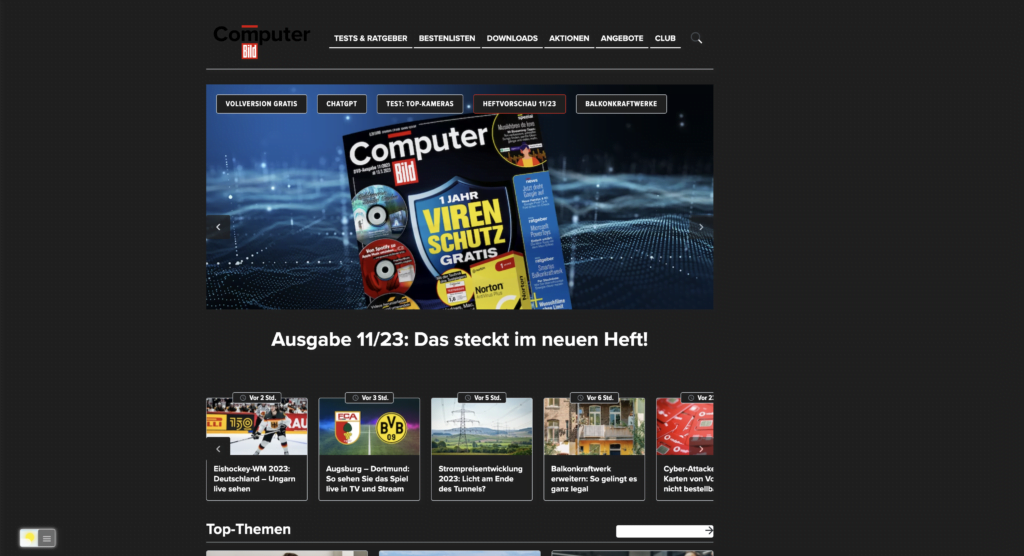 Enhanced User Experience
By incorporating dark mode, Turn Off the Lights offers its readers a choice between light and dark themes, catering to individual preferences. Users can effortlessly switch between modes, adapting the website's appearance to their comfort and reducing eye strain.
Optimal Readability
Computerbild's dark mode prioritizes optimal readability by carefully selecting color combinations that maintain high contrast. The use of bold fonts and clear typography ensures that content remains easily legible, even in low-light environments.
Conserving Battery Life
With the increasing usage of mobile devices, battery life is a crucial factor. Computerbild's dark mode helps users conserve battery power, allowing them to engage with the content for longer periods without worrying about draining their device's battery quickly.
Improved Accessibility
Computerbild aims to make its content accessible to a wider audience. Dark mode plays a vital role in achieving this goal by accommodating users with visual impairments or light sensitivity. The high contrast in dark mode assists those who may struggle with reading text on light backgrounds.
How to enable Dark Mode?
Activating dark mode on Computerbild is a simple process. For regular desktop internet users, you can get also this Computerbild Night Mode version on your favorite web browser. That is with the Night Mode option in the Turn Off the Lights Browser extension. Follow the steps below on how to enable this free solution in your web browser:
Download the Turn Off the Lights browser extension
Click right on the gray lamp button and select Options in the menu item
The Turn Off the Lights Options page shows up and select the tab Night Mode
Enable here the Night switch or the long-press feature to activate the night mode on the current web page
In addition, you can customize the website background, text, and hyperlink colors. So you can make it personal to your night theme style. And get the Dark Mode on Computerbild you want to see in your web browser.
Conclusion
Computerbild dark mode offers an immersive visual experience that enhances readability and reduces eye strain. By activating dark mode on Computerbild, you can personalize your browsing experience, conserve battery life, and enjoy a visually striking interface. So, why not give it a try and unlock a darker, more comfortable experience on Computerbild today?
If you find it useful to get your Dark Mode for Computerbild, then you can share the link on Facebook or share the link on Twitter. So your family, friends, or colleagues can know about this handy free tool.
FAQ Computerbild Dark Mode
What is Computerbild dark mode?
Computerbild dark mode is a feature that alters the color scheme of the Computerbild website, presenting a darker interface that is visually appealing and reduces eye strain.
How does Computerbild dark mode affect eye strain?
Computerbild dark mode helps reduce eye strain by minimizing the amount of light emitted by the screen. The darker background and high contrast text enhance readability, making it easier on the eyes, especially in low-light conditions.
Can I customize the dark mode on Computerbild?
Yes, in the Turn Off the Lights Browser extension Options page you can change the background, text, hyperlink, and button colors. So you can create your own Computerbild dark mode theme.