Archive of Our Own (better know as AO3) is a nonprofit open source repository for fanfiction and other fanworks contributed by users. The site was created in 2008 by the Organization for Transformative Works and went into open beta in 2009. As of December 2020, Archive of Our Own hosted 7 million works in over 40,000 fandoms. And as most website this does not provide you a built-in dark mode option. However, with Turn Off the Lights browser extension you can enable the Night Mode feature. That will bring the Archive of Our Own to your personal AO3 Dark Mode website.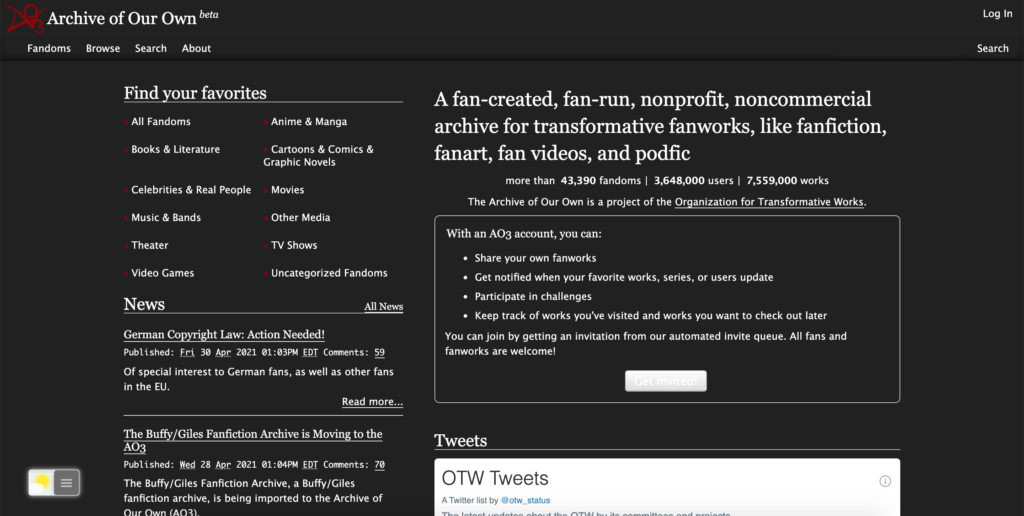 Activate AO3 Dark Mode with the free browser extension
For regular desktop internet users, you can get also this AO3 Night Mode version on your favorite web browser. That with the Night Mode option in the Turn Off the Lights Browser extension. Follow the steps here below on how to enable this free solution in your web browser:
Download the Turn Off the Lights browser extension
Click right on the gray lamp button and select Options in the menu item
The Turn Off the Lights Options page shows up and select the tab Night Mode
And enable here the Night switch or the long-press feature to activate the night mode on the current web page
In addition, you can customize the website background, text, and hyperlink colors. So you can make it personal to your night theme style.
Conclusion
Activate dark mode for AO3 desktop
How do I make AO3 Black?
Is there a dark mode for AO3?
How to enable dark mode for AO3?