Dropbox is a cloud service for online file storage. It allows the user to synchronize files with different computers and mobile devices and share them with third parties at the same time. That with the original release date on 11 September 11, 2008. The website style is simplistic and lacks Dark Mode. However, there is a solution to getting the Dark Mode website. That is thanks to the Turn Off the Lights browser extension, which provides you the option to convert all websites to your personal dark theme.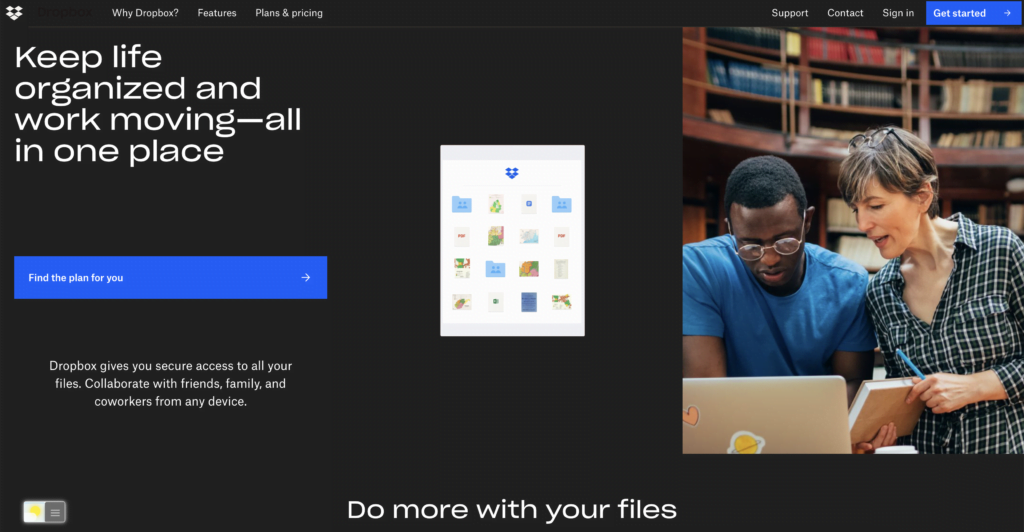 Activate Dropbox Dark Mode with the free browser extension
Download the Turn Off the Lights browser extension
Click right on the gray lamp button and select Options in the menu item
The Turn Off the Lights Options page shows up and select the tab Night Mode
And enable here the Night switch or the long-press feature to activate the night mode on the current web page
Dropbox Dark mode on iPhone and Android
Also, there is a Dark Mode for the mobile application, follow the steps here below on how to enable this:
Open the Dropbox application on your device
Tap on the Settings icon
Search for Dark mode that can be found under the Features header in the app's settings. And top on this menu item
Now you can choose for an always dark (or always light)
You can choose also to follow the system appearance color. So that the theme changed depending on the time of the day. Another minor issue is that you can not choose the dark color you want to see on your personal device. So it is not 100% solid black on your device. But a light black color as the background.
Steps to activate Dropbox Dark Mode (iOS web browser)
If you want to keep it always enabled in our Safari web browser on iOS and iPadOS. See this YouTube video tutorial on how to enable the Night Owl feature:
If you need any assistance or feedback to improve this free and Open-Source browser extension. You can always contact us on the support form here on the left side.
Conclusion
Activate dark mode for Dropbox desktop
How do I make Dropbox Black?
Is there a dark mode for Dropbox?
How to enable dark mode for Dropbox?