Table of Contents
Introduction
Do you want to make everything dark in your web browser? With that one single click or tap on the gray lamp button, it dims your webpage and also your toolbar such as the File, Edit, View, History, Bookmarks, etc. menu item. (currently only available in Firefox because this web browser supports the browser.theme API)
Dark mode has become a staple in modern digital interfaces, providing users with a sleek and eye-friendly alternative to traditional light themes. Firefox, a popular web browser, recognizes the growing demand for dark mode and offers users the ability to customize their browsing experience accordingly.
Why Dark Mode Matters
In recent years, dark mode has gained immense popularity due to its aesthetic appeal and practical benefits. The dark background not only reduces eye strain during extended browsing sessions but also contributes to prolonged battery life on devices with OLED screens. As more users embrace dark mode, it has become a standard feature in many applications, including web browsers like Firefox.
Enabling Dark Mode in Firefox
Activating dark mode in Firefox is a straightforward process. Begin by navigating to the browser settings and selecting the 'Appearance' tab. From there, choose the dark mode option. This simple adjustment instantly transforms the browser's interface into a darker, more visually pleasing layout.
And with the new Turn Off the Lights Firefox extension, you can dim even the complete toolbar. As you can see in the YouTube video demonstration:
Benefits of Using Dark Mode in Firefox
In summary, when you make everything dark in Firefox brings numerous benefits, from reduced eye strain to improved battery efficiency. Users can expect a visually pleasing and customizable browsing experience that aligns with their preferences.
Impact on Productivity
Studies suggest that dark mode can positively impact productivity, especially during nighttime use. The subdued lighting reduces eye fatigue, allowing users to focus on their tasks without unnecessary distractions.
Steps the activate this make everything dark feature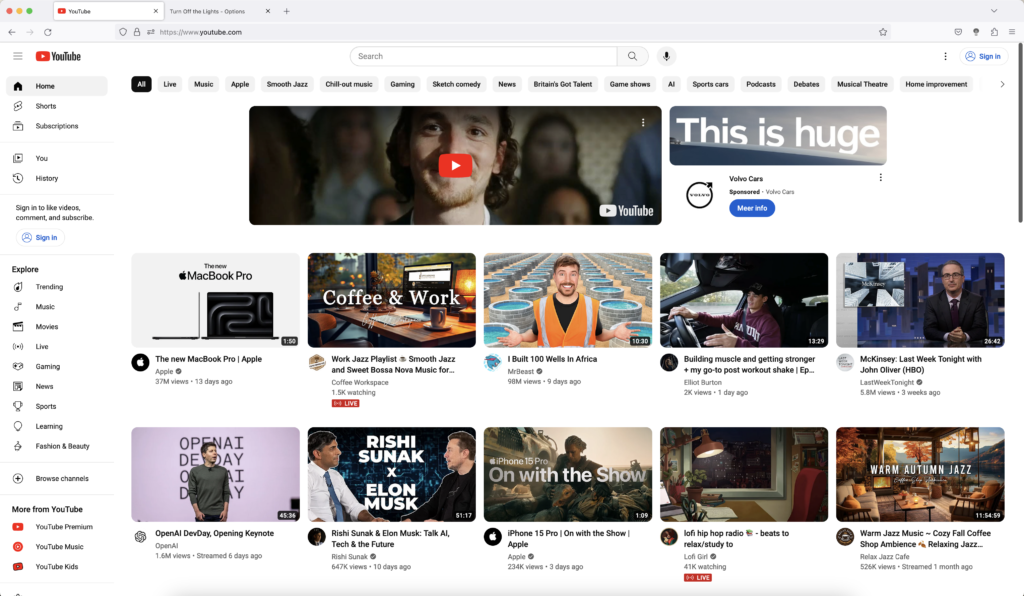 Follow the steps below to activate this on the Turn Off the Lights Options page (for Firefox only):
Open the add-ons page in your Firefox web browser
Click on the tab Extensions
Search for the extension name "Turn Off the Lights", and click on the Preferences button
You see it opens now the Turn Off the Lights Options page and click on the Advanced Options tab
Scroll now until you see the topic bulb
And enable the checkbox to dim the toolbars
Therefore, make everything dark in your Firefox web browser from the toolbar to the web page itself.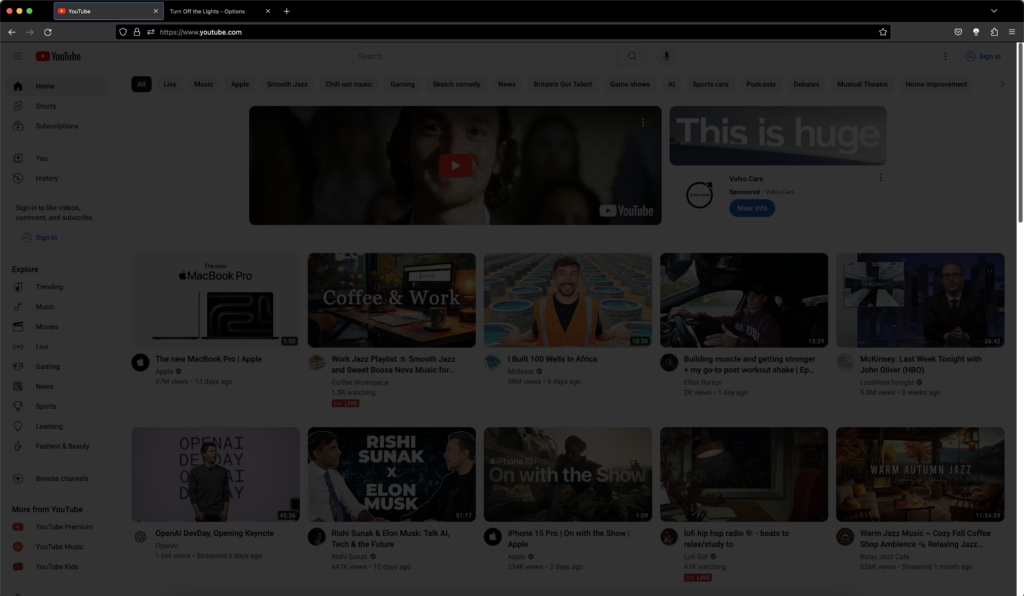 Important note: This Turn Off the Lights Firefox extension feature works only in Firefox v55 or higher. And on this version, it can only dim the web page and the Firefox toolbar. Therefore, make everything dark in your Firefox web browser. This feature is not available in other web browsers such as Google Chrome, Safari, Opera, and Microsoft Edge. Because there is no API to create this action.
Conclusion
In conclusion, when you make everything dark in Firefox is not just a visual preference; it is a commitment to a more comfortable and enjoyable browsing experience. With the flexibility to customize, access to extensions, and a focus on accessibility, Firefox empowers users to tailor their dark mode experience according to their unique needs and preferences.
FAQ
Is dark mode suitable for everyone?
Dark mode is generally suitable for most users, but it's essential to consider individual preferences and any potential impact on accessibility.
Can I enable dark mode on specific websites only?
Yes, Firefox allows users to enable dark mode for specific websites through browser settings or extensions.
Does the Turn Off the Lights Firefox extension support dark mode on the Options page?
Yes, the Turn Off the Lights Options page is available in light and dark mode. Therefore, make everything dark in your Firefox web browser.
How do I troubleshoot dark mode issues in Firefox?
Users can troubleshoot issues by checking extension compatibility, updating Firefox, or resetting browser settings.
What's the future of dark mode in Firefox?
Firefox is continually evolving, with future developments expected to enhance dark mode features and provide users with more customization options.