Table of Contents
Introduction
Are you looking for how to get Mojave Chrome dark mode enabled? Then you are on the correct help page.
When you use the Google Chrome version 73 or higher, and the macOS Light Appearance is enabled. Your Google Chrome web browser user interface is still light. And when you enable the macOS appearance settings to Dark. All your finder windows and your Chrome web browser are dark. And that is not good for all users. And if you want to get a Dark Mode on only the Light Appearance of your macOS. Yes, you can with this free and easy solution to Mojave Chrome Dark Mode enabled.
What is macOS Mojave?
macOS Mojave is the fifteenth major release of the macOS operating system developed by Apple Inc. It was introduced to the public in June 2018 during the Apple Worldwide Developers Conference (WWDC) and was officially released later that year in September. Mojave succeeds macOS High Sierra and precedes macOS Catalina.
This operating system is named after the Mojave Desert in California, continuing Apple's tradition of naming its Mac operating systems after scenic locations in the state. Mojave brought several notable features and improvements to the Mac user experience.
Key features of macOS Mojave include:
Dark Mode: One of the most visually striking features, Dark Mode transforms the entire interface into a darker color scheme. This not only enhances the aesthetics but also reduces eye strain, especially in low-light environments.
Dynamic Desktop: Mojave introduced Dynamic Desktops, which automatically adjust the desktop wallpaper based on the time of day, creating a subtle visual transition from morning to night.
Desktop Stacks: To help users keep their desktops organized, Mojave introduced Stacks. This feature automatically groups files on the desktop into organized stacks, making it easier to locate and manage content.
Finder Enhancements: Mojave revamped the Finder with features like Gallery View, which provides a large preview of files, and Quick Actions, allowing users to perform actions on files without opening separate applications.
Continuity Camera: This feature enhances the connection between Mac and iOS devices. Users can take photos or scan documents with their iOS device, and these images are instantly accessible on the Mac.
Privacy and Security Improvements: Mojave strengthened user privacy by requiring apps to get user permission before accessing the camera, microphone, or sensitive user data. It also introduced improved security measures.
Safari Updates: The Safari web browser received performance improvements and enhanced privacy features, such as Intelligent Tracking Prevention, which helps protect user privacy while browsing.
Group FaceTime: While initially promised for Mojave, Group FaceTime was later released as part of macOS Mojave 10.14.1. This feature allows users to have video calls with up to 32 participants.
Solution Mojave Chrome dark mode
To get a Mojave Chrome dark mode (or later such as macOS Catalina, Ventura, Sonoma), you only need to install the Dark theme from the Chrome web browser. And then you get a dark user interface for your web browser. And it will keep the regular light appearance for all your other Mac operating systems.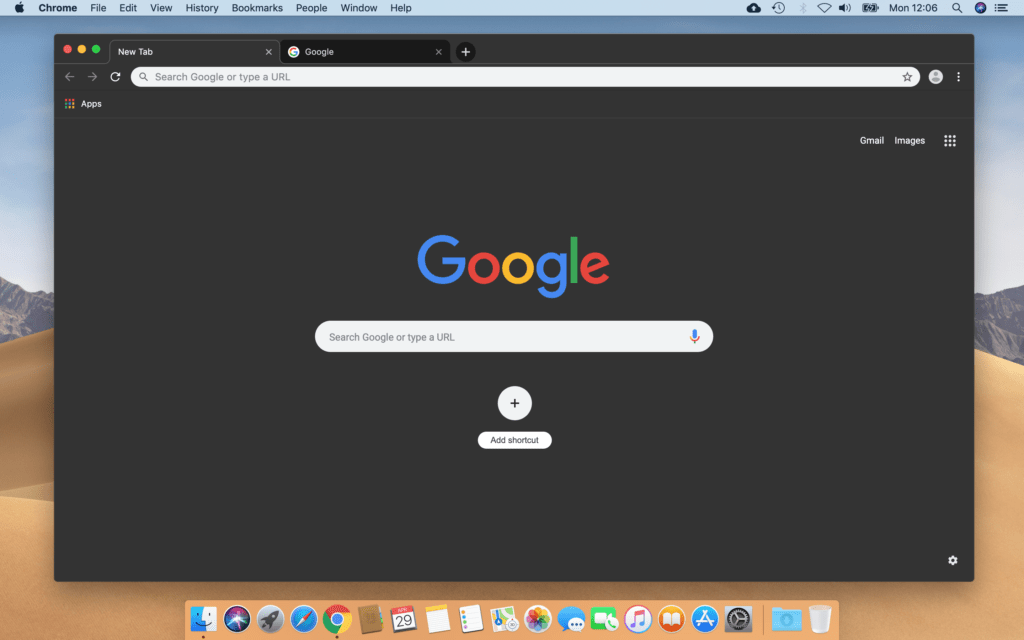 This idea works vice versa if you need a Light Chrome Theme for your Google Chrome web browser when your macOS is enabled on the Dark Appearance.
In conclusion, you get a dark experience that day and night when you browse on the internet with your Google Chrome web browser. If you want to convert all your websites, you can install the Turn Off the Lights Chrome extension.
Conclusion
In conclusion, Mojave Chrome Dark Mode isn't just a visual upgrade; it's a transformative journey into a more comfortable and stylish browsing experience. Embrace the dark side and elevate your web exploration to new heights.
FAQ
Is Mojave Chrome Dark Mode customizable?
Absolutely! Mojave Chrome Dark Mode is designed with user preferences in mind. Dive into your settings and tailor the experience to match your style.
Does it save battery on mobile devices?
Indeed, it does. A Dark Mode, especially on devices with OLED screens, contributes to improved battery life, making it an eco-friendly choice.
How does it affect web developers?
Web developers should consider designing their own Dark Mode theme. With CSS the owner of that website can choose for light and dark a separate theme. MacOS Mojave with detect this appearance easily depending on what macOS Mohave appearance is set to.