Do you want to change the Google calendar theme? Unfortunately, Google has discontinued the Labs feature in Google Calendar, which includes a way to enable a custom background image. And can make your dark calendar of it. You can let the Google Calendar team know that you want this feature for Calendar that by Send Feedback to Google Calendar.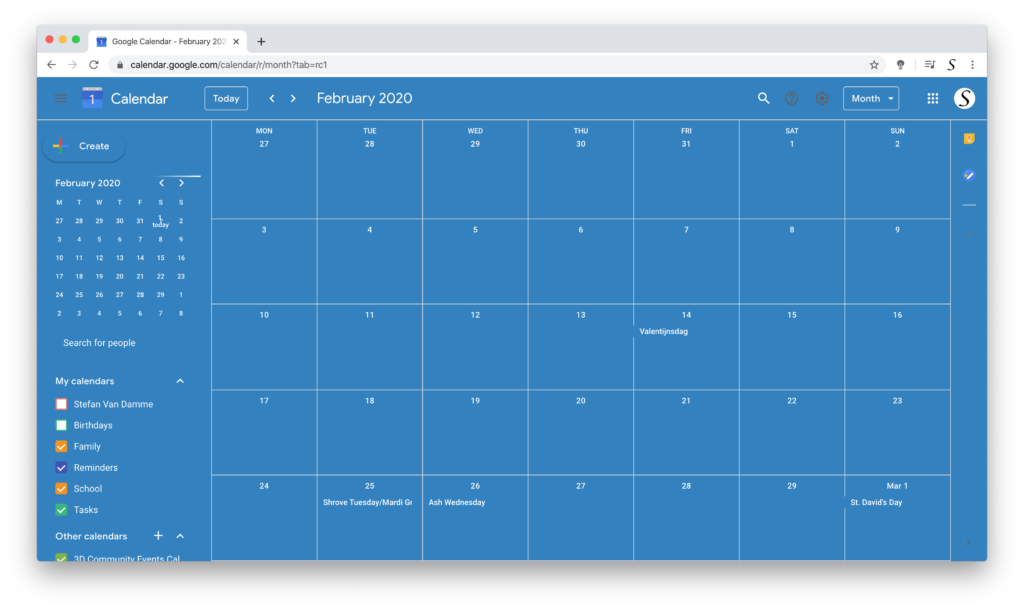 Activate your custom Calendar background and change my Google calendar theme
But why wait? When you can already have a most customized Night Mode feature (in the Turn Off the Lights Browser extension) for all websites. And that change my Google calendar theme to your personal style. That feels your calendar more alive than the solid bright Calendar web page.
Follow the steps here below to activate this solution in your favorite web browser:
Install the Turn Off the Lights Browser extension

For Google Chrome, Firefox, Opera, and Microsoft Edge

Click right on the gray lamp button
And select the menu item Options

For Safari version 12 or lower

Open the "Turn Off the Lights for Safari" app from the Launchpad or from the Application folder
And click below in this window on the button Options

When the options page is open, click on the tab Night Mode
And enable here the checkbox to get the Night switch visible on each web page or scroll further down to enable the checkbox to automatically convert the page in night theme each time you open a new page
---
Do you found technical, factual and grammatical errors on the Turn Off the Lights website?
You can report a technical problem using the Turn Off the Lights online technical error feedback form.
---