NYTimes is the short abbreviation from the New York Times news website. The New York Times is an American daily newspaper. Its headquarters are located in The New York Times Tower in New York. The newspaper's nicknames are The Old Gray Lady, The Old Gray Lady, and The Times. His first edition is in the year 1851.
NYTimes is known as a bright website with the lack of an NYTimes in dark mode version. However, there is a free and Open-Source solution to get Dark Mode on all websites. And also get your personal NYTimes Dark Mode theme version. Turn Off the Lights browser extension is the accessibility tool to customize the web experience in all websites. And that provides you the Night Mode option to change the website stylesheet very easily to your personal dark theme colors. That includes background, text, hyperlinks, and the color of the buttons.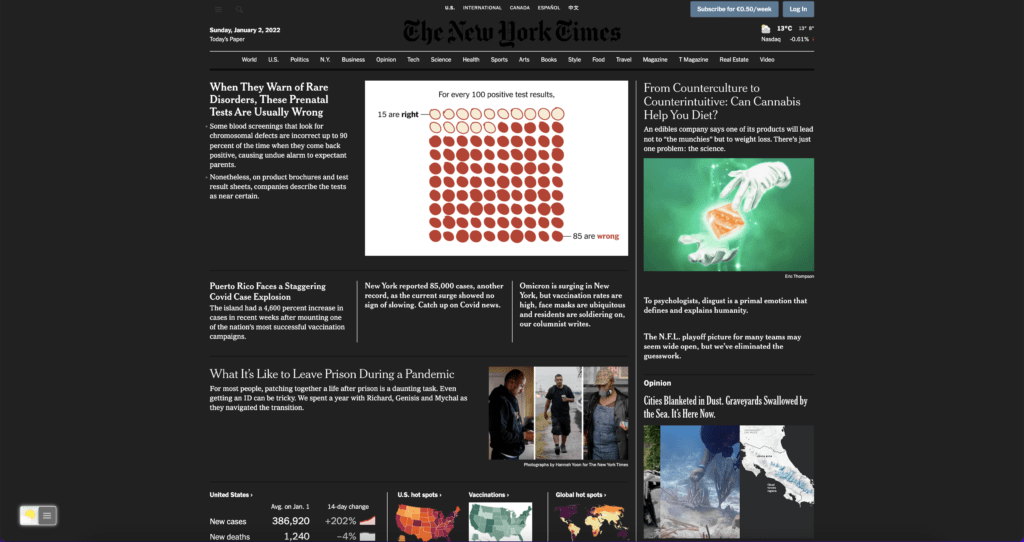 Activate NYTimes in Dark Mode with the free browser extension
Download the Turn Off the Lights browser extension
Click right on the gray lamp button and select Options in the menu item
The Turn Off the Lights Options page shows up and select the tab Night Mode
And enable here the Night switch or the long-press feature to activate the night mode on the current web page
Conclusion
Activate dark mode for NYTimes desktop
How do I make NYTimes Black?
Is there a dark mode for NYTimes?
How to enable dark mode for NYTimes?
New York Times dark mode gone
---
Did you find technical, factual or grammatical errors on the Turn Off the Lights website?
You can report a technical problem using the Turn Off the Lights online technical error feedback form.
---