Do you want to change the color of that dark layer? In the Turn Off the Lights options page, you can change the default black color to one of the thousand colors such as green, red, orange, yellow, purple, white, or blue. Or you can choose your own background image as the layer of this extension. You can customize this browser extension in all ways to make it comfortable for you. And that on all websites including the most popular video website YouTube.
Steps to change the color of that dark layer
Open the Turn Off the Lights options page by going to this web page:
Google Chrome chrome://extensions/
Opera opera://extensions/
Firefox addon:about
Safari click in the Mac OSX menu bar on the Safari then click on Preference. In the preference panel from Safari click on the Extensions tab
Click on the Options button
In the first Basics tab, you can change this to the following style:
a) One solid color, for example, green
b) A linear gradient color, an example from dark gray to black
c) A background image, your beach wallpaper in France
Close the web page to save the settings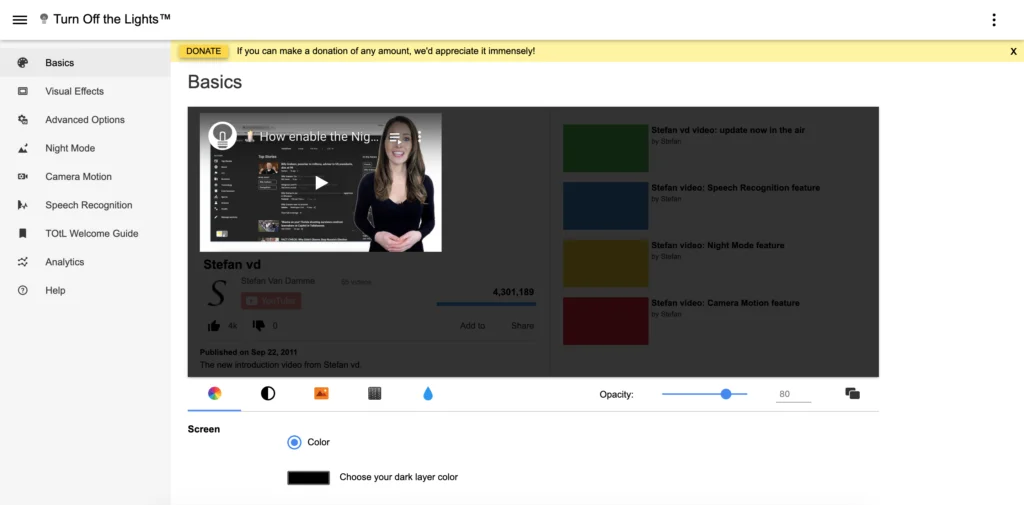 Also on this web page location, you can increase or decrease the value of the opacity by moving the slider right of the color box.
YouTube Video
This is a helpful video on how to enable the image wallpaper as a dimmed layer.