Table of Contents
Introduction
In the ever-evolving world of digital productivity tools, Google Calendar stands as a reliable and versatile choice for managing your schedule. It offers various features to enhance user experience, and one such feature is Google Calendar Dark Mode. In this article, we'll delve into the world of Google Calendar Dark Mode, explore its benefits, and guide you on how to enable it. Let's make your scheduling experience more comfortable and visually appealing.
What is Google Calendar Dark Mode?
Dark Mode has gained immense popularity across applications and platforms due to its aesthetic appeal and the reduced strain it places on the eyes, especially during extended usage. Google Calendar Dark Mode is no exception to this trend. Let's explore what makes it a must-try feature.
Google Calendar Dark Mode, as the name suggests, is a visual theme designed to replace the traditional bright and light interface of Google Calendar with a darker, more subdued color palette. This new theme enhances visual comfort, particularly in low-light environments, and reduces eye strain.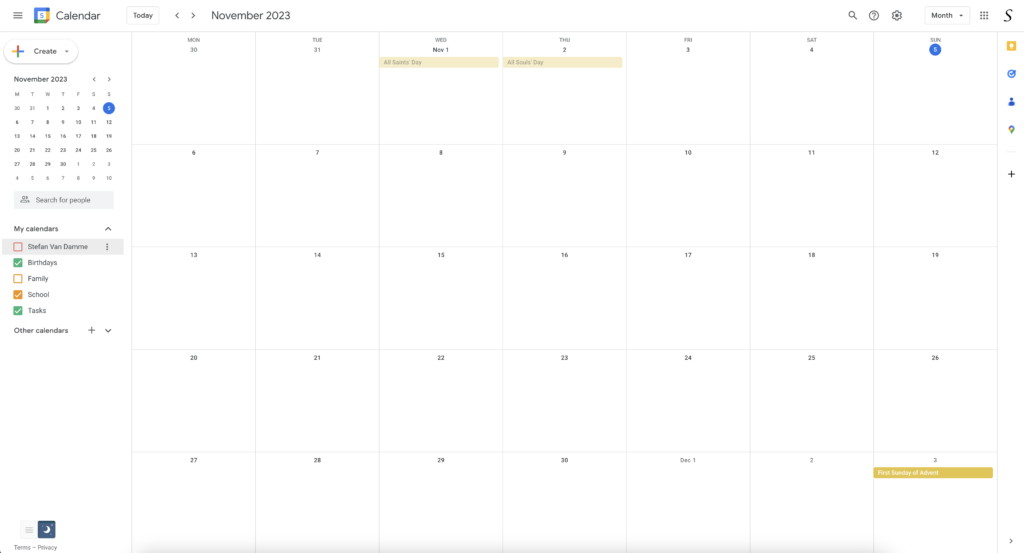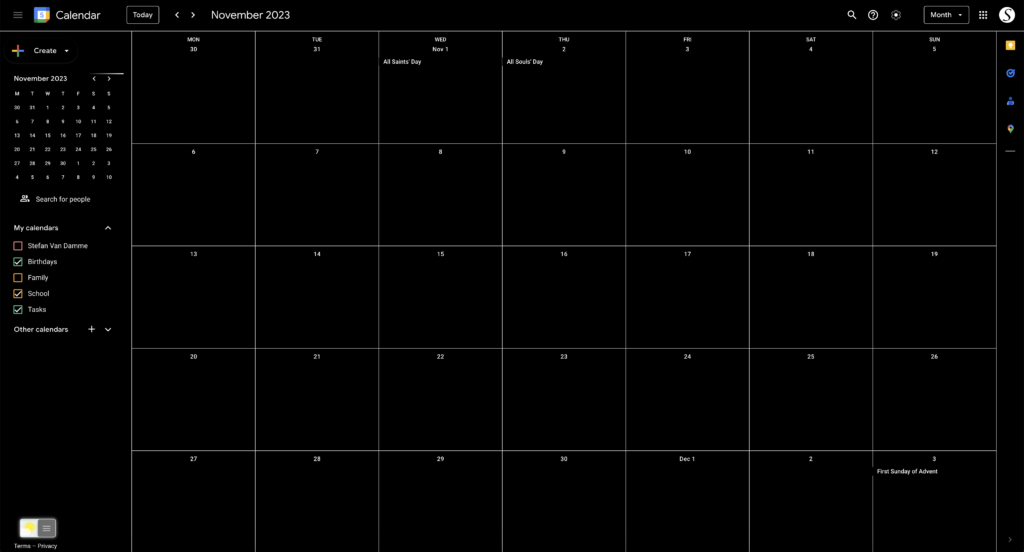 How to enable Google Calendar Dark Mode
Activating dark mode on Google Calendar is a simple process. For regular desktop internet users, you can get also this Google Calendar Night Mode version on your favorite web browser. That is with the Night Mode option in the Turn Off the Lights Browser extension. Follow the steps below on how to enable this free solution in your web browser:
Download the Turn Off the Lights browser extension
Click right on the gray lamp button and select Options in the menu item
The Turn Off the Lights Options page shows up and select the tab Night Mode
Enable here the Night switch or the long-press feature to activate the night mode on the current web page
Once you've selected your preferred mode, the interface will adapt accordingly, making your scheduling experience more pleasant.
Advantages of Dark Mode
Reduced Eye Strain: The darker interface is easier on the eyes, especially in low-light conditions. It reduces the strain caused by staring at a bright screen for extended periods.
Extended Battery Life: On devices with OLED or AMOLED screens, Dark Mode can help save battery life as fewer pixels are actively illuminated.
Aesthetic Appeal: Dark Mode often provides a sleek and modern appearance that many users find visually appealing.
Focus on Content: With a darker background, the calendar events and information become more prominent, allowing you to focus on what matters most.
Conclusion
Google Calendar Dark Mode is a welcome addition for users who value both aesthetics and comfort in their scheduling tools. By enabling Dark Mode, you not only reduce eye strain but also give your calendar a modern and visually appealing makeover. So, why not make the switch today and elevate your scheduling experience to the next level?
If you find it useful to get your Dark Mode for Google Calendar, then you can share the link on Facebook or share the link on Twitter. So your family, friends, or colleagues can know about this handy free tool.
FAQ Google Calendar Dark Mode
Is Google Calendar Dark Mode available on all devices?
Dark Mode is available on both Android and iOS devices, as well as for the web version. Ensure you have the latest app version to access this feature.
Does Dark Mode have any impact on my eyes' health?
Dark Mode is known to reduce eye strain, especially in low-light conditions. It can be beneficial for your eyes and overall visual comfort.
Are there any disadvantages to using Google Calendar Dark Mode?
While Dark Mode offers many advantages, it might not be suitable for everyone. Some users may prefer the traditional light interface or find it less readable in well-lit environments.