On the internet you see more bad software online that is spying me as a user. Or doing bad things behind your back. Turn Off the Lights is an Open Source browser extension and we do not add any ads, flashing elements, crypto mining script, or other malware to your web browser (Google Chrome, Opera, Safari, Firefox, Maxthon, Microsoft Edge, etc). Also, we do not collect small amounts of anonymous data for research purposes to send it back to his server. And we do not scan the user's whole browsing activity.
Manifest V3 technology
There are companies outside that email us many times to add a special script inside for data research. I can not accept these bad practices. I quote from a bad company that said this "research script is compatible with Chrome Web Store policy and with Manifest V3". That is not true! It is a shame that this company lies to us.
There is no 3rd party research script inside the Turn Off the Lights browser extension. Because Manifest V3 does not allow extern script files. And we have no interest in that.
In the new Manifest V3 will be the default standard for browser extensions on 1 January 2023. The user will have more control over permissions, adding stricter protocols for accessing resources outside the extension's context, and ensuring that extensions work well on all devices.
Quote from the lead developer Stefan
Privacy is very important for me and also for my users. Turn Off the Lights browser extension does what it must do and with a clean user interface for the user to change the look and feel in this extension. And as Turn Off the Lights user, you are free to take a look behind the code of this project. The code is all nicely written line by line, not compressed and not encrypted.

Stefan Van Damme
The Turn Off the Lights is a trusted browser extension that is used worldwide and is used by more than 2 million users. And featured by major web browser vendors such as Google, Firefox, Apple, and Microsoft. The high number of users tells it also that it is safe to use this browser extension. And in the Chrome web store it has a review rating of more than 4,65 of the 5 stars. That is high for a browser extension that is also available for free to everyone. Also, this browser extension has also been designed and engineered for children, students, and teachers.
Here below are a few users review that loves our free and Open-Source browser extension. And do what it must do. With additional options that are default disabled, to keep this first simple experience. The user can always enable it on the Turn Off the Lights Options page. To improve and power up its best web browsing experience in his favorite web browser.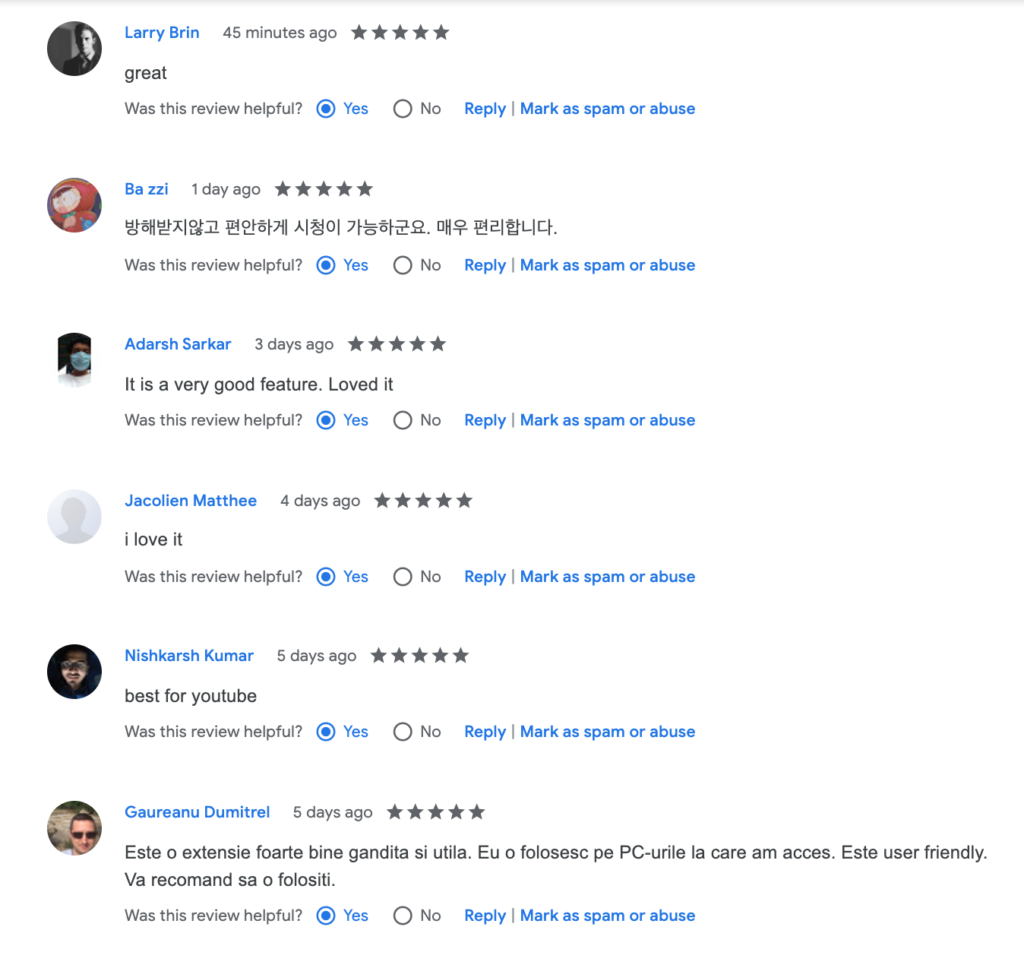 Other companies ask that you must go spying me
If you are a company that has an offer for us about collecting data or placing ads in our most popular browser extension. Then we can not accept these types of practices. Because of our privacy license, the rights of freedom and anonymity on the internet.
Hope this answer your questions about the topic of spying me:
Are you spying me when using the Turn Off the Lights browser extension?
What data are you collecting?
Do you spying me on the browser history?
Do you use 3rd party research script inside the Turn Off the Lights browser extension?
Is the Turn Off the Lights really 100% free and Open-Source?
TLDR Conclusion
Do you spying me on the internet when I use this browser extension? The answer is no.