Si quieres hacer el YouTube más oscuro en Google Chrome (o en cualquier otro navegador web). La plataforma de vídeos youtube más oscura tiene un tema oscuro. Puedes activar el tema predeterminado desde YouTube siguiendo los pasos que se indican a continuación:
Abre el sitio web de YouTube y haz clic en el icono de tu perfil
Aparece un menú y haga clic en el elemento de menú "Tema oscuro: Desactivado"
Y habilite el interruptor de alternancia para habilitar el tema Oscuro
Consigue tus propios colores de modo oscuro y YouTube más oscuros en Google Chrome
Si quieres elegir tu propio color oscuro personal, entonces eres de suerte con el modo oscuro de YouTube predeterminado.
Sin embargo, hay una solución que puede crear su propia versión en modo oscuro de la misma, y que en todos los sitios web. Con la extensión gratuita Desactivar el navegador de luces, puede habilitar la función Modo nocturno. Esa poderosa característica le permitirá convertir cada hoja de estilo de página web a su propio tema oscuro personal. Elija el fondo, el texto y el color del hipervínculo.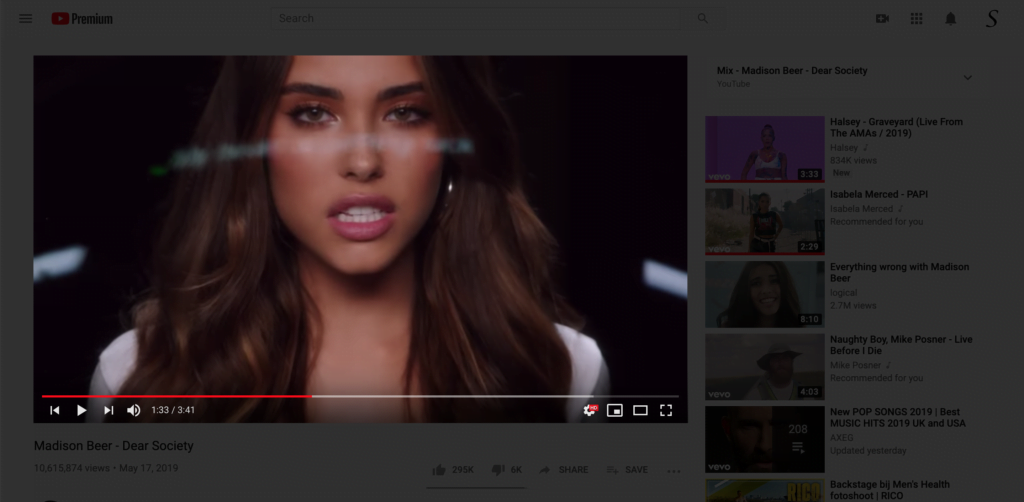 O bien, puedes pulsar el botón de la lámpara gris en la barra de herramientas de tu navegador web para atenuar la página web actual de YouTube y hacer que YouTube sea más oscuro en tu navegador web Google Chrome. Y con un doble clic en el botón de la lámpara gris, puede obtener un mini panel de configuración mostrar, donde se puede aumentar y disminuir el valor de opacidad de esta capa oscura.
---
Did you find technical, factual or grammatical errors on the Turn Off the Lights website?
You can report a technical problem using the Turn Off the Lights online technical error feedback form.
---