Linkedin es la red social profesional líder en negocios y trabajo. Aquí puede encontrar emprendedores, propietarios de negocios, empleados, y también personas para encontrar trabajo en este sitio web. Además, el 13 de junio de 2016, Microsoft anunció que adquiriría LinkedIn por 196 dólares por acción, un valor total de 26.200 millones de dólares y la mayor adquisición realizada por Microsoft hasta la fecha. LinkedIn no tiene una página web oficial del modo oscuro. Sin embargo, puede utilizar la extensión del navegador Apagar las luces para obtener su tema personal y ver su sitio web del modo oscuro de Linkedin. Con un solo clic en el interruptor Noche o en la función de pulsación larga, puede activar la versión más oscura de este sitio web de noticias.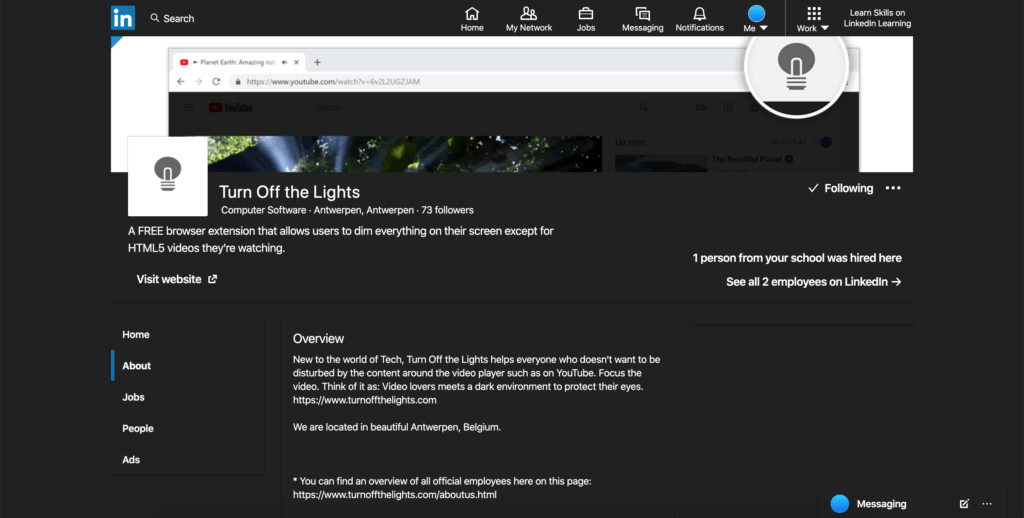 Activar linkedin modo oscuro con la extensión gratuita del navegador
Descargue la extensión del navegador Apagar las luces
Haga clic a la derecha en el botón gris de la lámpara y seleccione Opciones en el elemento de menú
Aparece la página Desactivar las opciones de luces y seleccione la pestaña Modo nocturno
Y habilite aquí el interruptor Nocturno o la función de pulsación larga para activar el modo nocturno en la página web actual
Además, puede personalizar el fondo del sitio web, el texto y los colores del hipervínculo. Así que puedes hacerlo personal a tu estilo de tema nocturno.
---
Did you find technical, factual or grammatical errors on the Turn Off the Lights website?
You can report a technical problem using the Turn Off the Lights online technical error feedback form.
---