Si estás buscando Google Drive en modo oscuro. Luego estás en la página de ayuda correcta porque Google no tiene una forma oficial de obtener una versión en modo oscuro (en la web). Sin embargo, hay una herramienta útil gratuita para obtener todos sus sitios web favoritos en modo oscuro y que incluye el modo oscuro de Google Drive.
Modo oscuro de Google Drive
Con la extensión Apagar el navegador de luces, puede habilitar la función Modo nocturno. Eso convertirá cada sitio web a su propia piel oscura personal. Así que tienes una mejor y cómoda experiencia de visualización en tu carpeta de Google Drive. Y reducirás la fatiga ocular y es más saludable para ti. Así que no tienes dolores de cabeza cuando protagonizas la luz brillante durante mucho tiempo.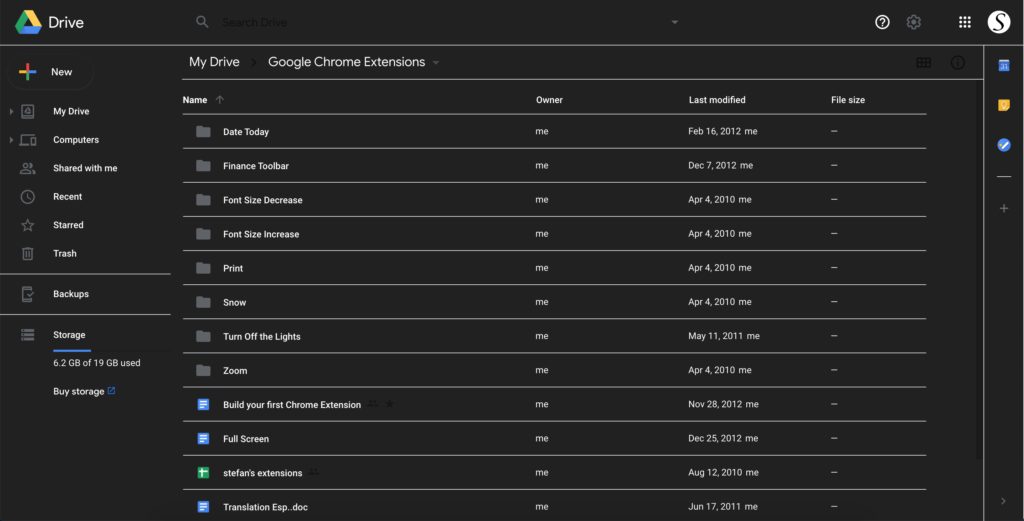 Sigue los pasos que se indican a continuación sobre cómo hacer que Google Drive sea un tema oscuro:
Descargue la extensión del navegador Apagar las luces
Haga clic a la derecha en el botón gris de la lámpara y seleccione Opciones en el elemento de menú
Aparece la página Desactivar las opciones de luces y seleccione la pestaña Modo nocturno
Y habilite aquí el interruptor Nocturno o la función de pulsación larga para activar el modo nocturno en la página web actual
Cuando vuelvas a tu sitio web de Google verás el interruptor De noche (si eliges esta opción)
Además, puede personalizar el fondo del sitio web, el texto y los colores del hipervínculo. Así que puedes hacerlo personal a tu estilo de tema nocturno. Y tener su unidad de Google en modo oscuro para PC y Mac habilitado.
Además, tienes la opción de mostrar el interruptor nocturno también en todos tus otros sitios web favoritos. Y para activar automáticamente la función en la lista permitida o no permitida en la página Desactivar las opciones de luces.
Preguntas frecuentes sobre el modo Oscuro de Google Drive
Is there a dark mode for Google Drive?
No, Google Drive do not have an official Dark Mode version of his website. However, you can enable the Google Drive Dark Mode version when you install the free and most popuplar Turn Off the Lights Browser extension. And in the Options page enable the u0022Night Modeu0022 feature.
How do I turn on dark mode in Google Drive?
You can enable the Dark Mode on all websites by installing the u003ca href=u0022https://www.turnoffthelights.comu0022 target=u0022_blanku0022 aria-label=u0022undefined (opens in a new tab)u0022 rel=u0022noreferrer noopeneru0022u003eTurn Off the Lights Browser extensionu003c/au003e, and in the Options page go the Night Mode tab. And enable here the Night Mode switch.
Can you make Google Docs dark?
Yes, with the free Turn Off the Lights Browser extension. And in the Options page enable the Night Mode feature.
Is Dark mode better for eyes?
Yes, it very comfortable when you reading a web page late in the night. Because the bright light will create headache when you watching to long a bright website.