Si estás buscando cómo desactivar un tema de Chrome en tu navegador web Google Chrome, estás en la página de ayuda correcta. Nuestro software Apagar las luces contiene 2 tipos de experiencias personales. Una es la extensión de Chrome para atenuar la página web y centrar el reproductor de vídeo en la página web actual. Y la segunda experiencia es el tema de Chrome oscuro/claro para tu navegador web Google Chrome. Que puede descargar en este sitio web oficial Desactivar el tema del navegador de luces. Así que obtienes una interfaz de usuario más simple y ultra-oscura/ligera para tu navegador web Chrome.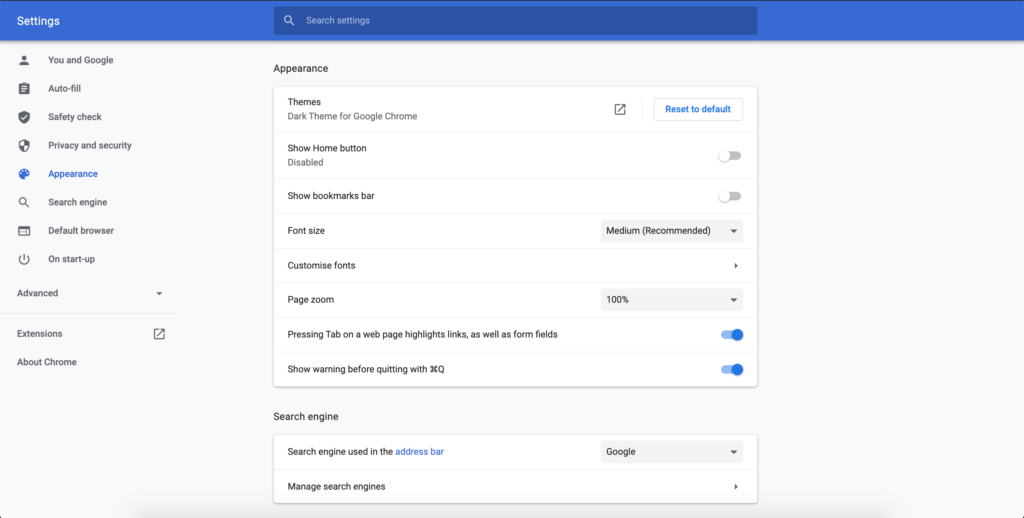 Solución sobre cómo eliminar un tema de Chrome?
Con el navegador web Google Chrome, puede personalizar la interfaz del navegador web a su estilo personal. E instalaste uno de los temas de Chrome desde la tienda web de Chrome. Pero algo que no te gusta el tema actual y puedes eliminar un tema de Chrome muy fácilmente siguiendo los pasos aquí abajo:
Haz clic en el menú de Chrome ⋮ en la barra de herramientas del navegador
En el menú haga clic en Configuración y, debajo del texto Apariencia, verá el tema del tema
Haz clic en el botón gris Restablecer al tema predete

rminad

o para recuperar tu tema predeterminado de Chrome
---
Did you find technical, factual or grammatical errors on the Turn Off the Lights website?
You can report a technical problem using the Turn Off the Lights online technical error feedback form.
---