Si usted está buscando para proteger sus ojos tarde en la noche se puede utilizar el libre y de código abierto Apagar la extensión del navegador de luces. Eso está disponible para todos los principales navegadores web, que incluyen Google Chrome, Safari, Opera, Firefox, Yandex, Vivaldi, Brave, Yandex y Microsoft Edge.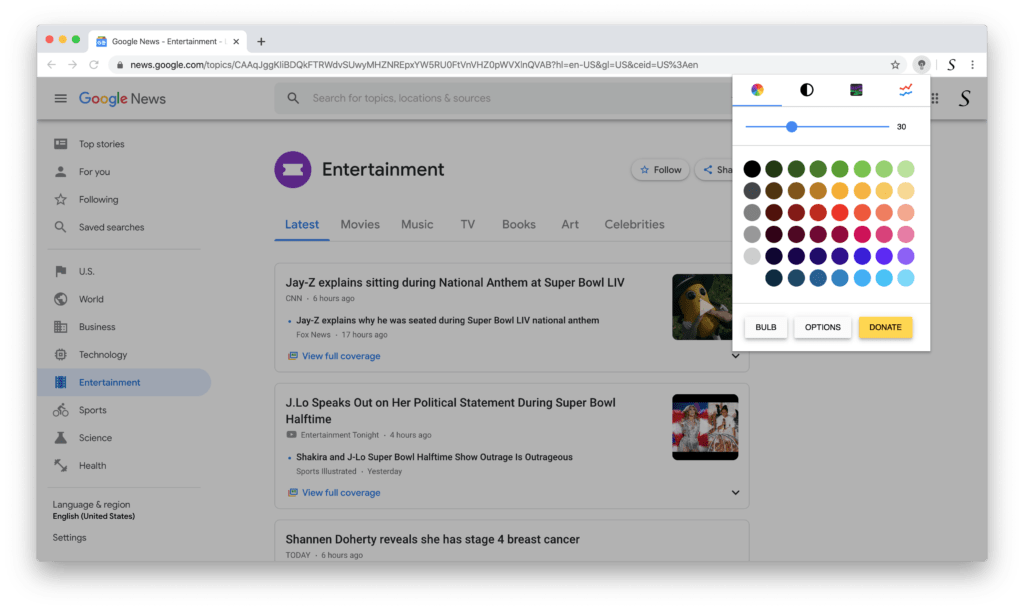 Tu ojo necesita descansar. Y también cuando navegas por la página web más tarde por la noche (tienes más el Ojo nocturno). Cuando instale la extensión del navegador en su navegador web favorito verá un nuevo botón en su barra de herramientas. Y es el botón de la lámpara gris, con este botón se puede atenuar la página web actual. Y si hay un reproductor de vídeo disponible en esa página web, traerá este reproductor de vídeo en la parte superior de la capa oscura.
Sin embargo, también puede personalizar la extensión del navegador Apagar las luces que atenua en todas las pestañas abiertas. Y mantenga la capa oscura activada al hacer clic en un hipervínculo o seleccionar un texto. Para activar esta función, siga los pasos que se indican a continuación para habilitar la protección ocular nocturna (como el sitio web de Google News):
Instale la extensión Apagar el navegador de luces

Para Google Chrome, Firefox, Opera, Microsoft Edge, Safari

Haga clic a la derecha en el botón de la lámpara gris
Y seleccione el elemento de menú Opciones, y la página Desactivar las opciones de luces aparece en una nueva pestaña en su navegador web

Cuando la página de opciones esté abierta, haga clic en la pestaña Opciones avanzadas
Y desplázate hacia abajo hasta que veas el botón Navegador Acción. Aquí puede elegir los diferentes tipos de acción que su Apagar la extensión del navegador luces debe hacer cuando haga clic en el botón de la lámpara gris.
Si desea controlar la opacidad de esta capa oscura, puede utilizar el panel de mini ajustes que es visible al hacer clic dos veces en el botón de la lámpara gris. El panel de mini ajustes aparece debajo de este botón de lámpara gris, y aquí verá un control deslizante para controlar la capa oscura al instante a su valor de opacidad preferencia.
Conclusión
Esta herramienta de accesibilidad gratuita y útil puede ayudarle a reducir la luz brillante que brilla desde su navegador web favorito a su cara. Y mantén tu ojo nocturno cómodo y saludable para tus ojos. Eso en todos los sitios web que navegas en Internet.
What web browsers do you support?
The Turn Off the Lights supports all major web browsers. That includes Google Chrome, Safari, Opera, Firefox, Yandex, Vivaldi, Brave, Yandex, and Microsoft Edge.
Is it a FREE browser extension that I can use?
Yes, the Turn Off the Lights if 100% FREE and Open-Source browser extension. There is no monthly subscription needed. We believe this tool must be available for everyone from children, students, teachers, video lover users, and users with a bad vision that want to protect his eyes.
Can I customize the Night Theme to my personal feel and look?
Yes, in the Turn Off the Lights Options page in the Night Mode tab you can change the dark theme look to your personal style. You can change the background, text, and hyperlinks colors. Furthermore, you can enable other advanced options to enable the Night Mode with a switch or with a long press on the current web page.
Do you have this also available for Mobile?
Yes, the Turn Off the Lights is also available for the mobile operating systems such as iOS and Android. You can download the FREE Turn Off the Lights for Mobile from the App Store and Google Play Store.
---
Did you find technical, factual or grammatical errors on the Turn Off the Lights website?
You can report a technical problem using the Turn Off the Lights online technical error feedback form.
---