[Skip to Content]
Turn Off the Lights for Desktop (Windows)
$24.99
Free Shipping
Available to ship:
Not available! New version will be soon available here and at the Windows Store.
Dim your personal desktop and work late in the night. And still focus on your project or movie.
Compatibility
Mac OS X v10.7, v10.8 or later (-> iboot camp)
Windows 7, 8 or later
Minimum needed Memory 2GB RAM
Minimum needed Dual Core 2GHZ or higher
Minimum needed 50MB on your harddisk
What's in the Box?
+ Turn Off the Lights for Desktop software
+ Welcome guide
---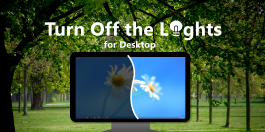 ---