[Skip to Content]
Turn Off the Lights for Desktop (Windows)
Dim you desktop and work at night. And still focus on your project or movie.
Compatibility
Mac OS X v10.7, v10.8 or later (-> iboot camp)
Windows 7, 8 or later
Minimum needed Memory 2GB RAM
Minimum needed Dual Core 2GHZ or higher
Minimum needed 50MB on your harddisk
What's in the Box?
+ Turn Off the Lights for Desktop software
+ Welcome guide
---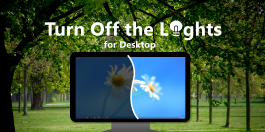 ---